Why is it so important to have a user-friendly website? In fact, what do you even mean by a user-friendly website? I am sure a few of you must have encountered these types of questions. Well, I am here to explain to you the answers to all of them.
First thing first, a user-friendly website attracts more audience and increases traffic for your website. It also helps in expanding the business relationship between the company and the customer.
Imagine this scenario, on one hand, there is a well designed and developed user-friendly website while on the other there is a website that is very confusing and messy. The difference between the two websites can clearly be seen. As a visitor, I would love to visit a website that is well developed and designed because I'll get a good user experience of the site and would never visit the other one.
This is the power of a user-friendly website. So not wasting any time let us learn how we can make a website user-friendly.
Build an intuitive navigation bar
The first and foremost design suggestion to create a user-friendly website is to build a website that is more informative and less bulky. Your visitors should be able to find the desired information immediately or after passing 1-2 layers only. They should navigate through the website effortlessly. Considering the agile behavior of the user, we need to capture their attention as soon as they land on the website. If the user does not find the information they are seeking in an instant, the chances of them leaving the website get high.
To create a navigation bar that is simple, informative, and convenient, we need to keep these points in mind:
Menus are your primary tool. They should be instantly visible to the user. Menus should be clear and logically structured. The categories and subcategories should be spick and span.
The users will not have to track back the whole path to return to the home page. By adding a home button on every page will help the user to reach out to the home page in just one click.
Too many menu layers should be avoided. A few clicks should be enough to reach the goal state. If you have a complex E-commerce website, in that case creating more layers would be beneficial.
A breadcrumb trail is a secondary system of navigation that shows the location on a website or web page. These clickable links show the path which the user has traced and can traverse back to. Breadcrumbs are very useful on complex websites as they show the user where they are currently and can quickly shift to other options without checking the categories or the subcategories.
Adding a search bar to your website opens up a large box of options. Without scrolling or navigating the website completely, the user can find the product or desired information in a few clicks only. Your visitors just need to add some keywords in the search bar and all its matching results will pop-up within seconds.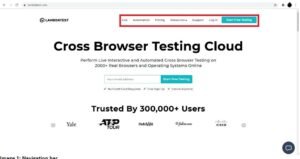 Focus on the content
Imagine this situation, you wish to purchase new anti-virus software for your computer system. You search it on Google and now there are 100 various options for you to choose from. By opening and giving a glance to the top pages one-on-one, you make your decision.
This is what a real user does! They visit the site and if the website is self-explanatory within 5 seconds then the user will stick to the site else will quit. This is why we need a website that catches the eye of the user within those 5 seconds. Here are some factors that you need to care about:
As we explained, the content on the web page should be such that the readers can grasp it quickly. They can scan the page rapidly.
Colors on the background and the text should be contrasted as contrast colors reflect better. This will increase the readability of your content.
The font style, size is a point to heed on. It should be simple, not very fancy. Keep in mind that your audience can view your website through a mobile screen or a laptop screen.
Mobile-friendly website
We all are well aware of the fact that smartphones are ruling the market. In the recent survey conducted by Statcounter, it has been confirmed that mobile users have surpassed desktop users. This is why it becomes necessary for us to make our website mobile-friendly as well.
A developer should ensure the user gets the best experience, irrespective of the platform they are coming from (either desktop or mobile). The user should enjoy the context and clear images of the website without zooming it in or out. In short, we can state that our website should be responsive. A responsive website mould itself as per the dimensions of the device. The images and font sizes also get adjusted. To test whether your website is responsive and to check the performance and layout of the website you can use a tool such as LT Browser.
LT Browser is the latest product of LambdaTest. With this tool, you can easily check the responsiveness of your website. You can test the website with over a combination of 45+ mobile screen sizes, resolution, and operating system.
Along with that, you can also perform hot loadings, screenshots, and video recordings of your test. With the inbuilt debugger, users can easily debug their code in a few simple steps.
If you wish to know more about how to make your website mobile-friendly, you can give The ultimate guide to building a mobile-friendly website a read.
White Spacing
White spacing refers to the spacing between two elements in a composition. The physical appearance should be appealing to the users. Creating a website using all the white space will enhance the look of your website. Just take a look at the given website.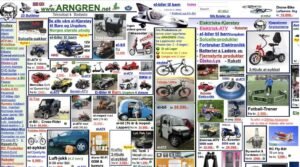 Tell me honestly what is your first reaction after seeing this site? Well, for me it was very confusing and irritating. The icons are small, there is no white spacing, random colors have been used and the most important aspect is that you cannot draw a clear message of the site by just looking at it.
On the other hand, look at the LambdaTest website. It is more soothing to the eyes, the spacing between two elements has been done properly, the icons are large, and moreover, the essence of the website is reflecting clearly. This is why white spacing should be used by the UX designer to create a website.
Speed it up
To gain more users on your website you need to increase its loading speed. It has been proved in a survey that the probability of bounce increases by 32% if the web page takes 1-3 seconds to load. To keep the users on the site, we have to make the loading as fast as light.
To do so you can follow some basic practices.
Don't use too many videos and other multimedia. Use fewer videos only.
Compress your code (You can use some zipping software as well).
Optimize your images.
You can avoid unnecessary CMS modules and plug-ins.
Keep checking your server speed on a regular basis.
Browser Compatible
A good user-friendly website should be cross-browser compatible as well. We perform cross-browser testing on a website to check whether it is being operated from all types of browsers because a user can approach your website through any browser.
There are hundreds of browsers in the market and it is next to impossible to manually test our website on each and every browser. This is why we need tools.
LambdaTest is a cloud-based cross-browser testing tool. With the help of the platform, user can perform CBT on over 2000+ browser, operating system, and resolution combinations. User can even perform live testing and automation browser testing. Perform responsive testing, screenshot testing, test your locally hosted website and users can also integrate theirfavorite bug tracking tool with LambdaTest to resolve all your bugs with the help of your colleagues or teammates.
Avoid Pop-ups
The unwanted, irrelevant, and unavoidable ads on the screen can lead to a frustrated and irritated user. Unnecessary pop-ups should be avoided.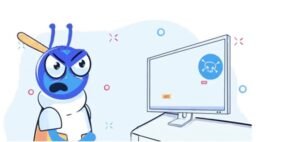 Instead of that, you can use good pop-up techniques to promote your product. Such as presenting a relevant pop-up, doesn't appear too frequently to the same visitor, does not cover the actual content of the page or shows some discounted schemes.
Contact facility
A user-friendly website will seek more traffic for you. Along with that we also need to convert the users into our potential buyers, after all, this will earn revenue to the company. A visitor comes to the website and like the product and wants to know more about the product, how will they do that? One option is to call on the helpline number, or will email you, or will drop you a message on the live-chat option function.
The customer can directly drop down a message to the company and an instant reply to the queries will help in sealing the deal even faster. Nowadays many renowned websites are using this option. All of that, keeping in mind the website is user friendly in nature and the user is our top priority.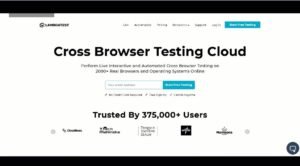 Also, you can add your company's social media handles such as your LinkedIn, Twitter, and Facebook handle on the website so that customers can share your profiles or can contact you through these handles.
Conclusion
We discussed all the features to make our website user-friendly. Users are your priority and an important aspect is you need to listen to what your users are saying. You need their feedback, to make improvisations on your website. Ask your customers which tools will be beneficial for them. Remember that the tools for e-commerce website and blogging website may differ from each other.
Don't forget to add tools such as LT Browser for testing your mobile-friendly website and LambdaTest for a simple and effective cross-browser testing. You can start your free trial today. LT Browser is the latest product of LambdaTest and has gained a loyal audience this is why it has been ranked the 5th top product by Product Hunt.
On this note, I would like to end this article. I hope you inculcate all the above-mentioned points and include them while developing and designing your next website. Keep on reading! Keep on testing!