Video is more engaging than static images in order to grab the attention of the audience more.
As a result, creating impacted promo videos for business is now a consolidated trend in the marketing field, especially when launching products or services.
But not everyone has the necessary skills to create a good video, and neither do the necessary programs. If we combine the usefulness of the videos with the simplicity of realization, we get FlexClip.
What is FlexClip
FlexClip video maker is a free and easy-to-use online video editor that allows you to create videos in minutes. The drag and drop interface is simple. Even with no experience in video editing, but if you have a little creativity and then everything happens. In addition to the editor, the site offers an extensive library of videos, photos, and music to make a successful video. The site is free, but there are more features in the paid version.
Getting Started
First of all, you need to register an account on this site. When you log in to FlexClip, several options are presented. You can choose to make a video from a pre-existing template or you can start from scratch. There are dozens of templates to choose from in categories such as promo media, birthday, lifestyle, art and culture, tutorials, etc. Each category has several options within it. For example, the Art and Culture category has options such as "movie trailer", "music festival", "book review", and so on.
Making a Video
Whether you start from a model or from scratch, you will be taken to an editing screen. The screen is divided into three main sections. In the upper left corner, you have your tools: text, dynamic elements, background image, and music. In the upper right corner, you have the video clip you are currently editing. At the bottom, you have the storyboard.
The tool area is divided into subcategories, with the most common options displayed first. If you click on "see all" next to any category, you will be able to see all the options available.
FlexClip even has a section for royalty-free music. Everything you need to make a professional-looking video is at your fingertips.To check how any of the text or dynamic elements will appear on the screen, just hover your cursor over it. An animated preview will show you how the element works.
Inserting Videos
Inserting a new video clip is simple: just click on the + Storyboard tab in the bottom section.
There, you can choose: record your screen, record from a webcam, add files from your computer, add a background or add media from the website's library.
The clips are divided into 27 different sections ranging from Animal to Technology and more. Each section has tons of royalty-free clips. When you choose a video, it appears in the timeline at the bottom of the screen.
Each clip can be cut at a specific time. If you choose an item as text, all you have to do is drag it to the clip to insert it. I just had difficulties inserting images in the video. Whenever I dragged it to the video, it became the background. Until I realized that, in fact, I should click on the "Picture In Picture" option so that the image would be inside the video image itself. Confused, but this is how it worked.
What I like the most about FlexClip
While creating the video you can:
Add images and videos from our computer
Add Free stock images, videos, and music (already integrated)
Find templates divided into categories
Add multimedia elements: titles, texts, backgrounds, logos, animated overlays
Do screen/webcam recording
Just load them in the ' Media ' section and then add them on the Timeline which allows us to organize clips with transition effects and manage/embed graphics, finally before exporting we can view the live preview.
It is also possible to set the aspect ratio of the videos according to the platform on which you publish, for example on Instagram the square format is preferred over the classic 16: 9.
Another convenience is the ability to create videos starting from templates divided by categories, useful for having a starting point based on the type of topic, once the template has been selected we can customize it with our contents.
Exporting your videos
When you are finished editing the video, you can export it as 480p, 720p, and 1080p (although the latter two are just provided by paid plans). The service provides some plans, including the free one that allows (upon registration) to save up to 12 projects with a maximum length. of 1 min. they can only be exported at 480p, but they include the FlexClip intro.
To unlock the limitations there are the classic paid plans based on our needs.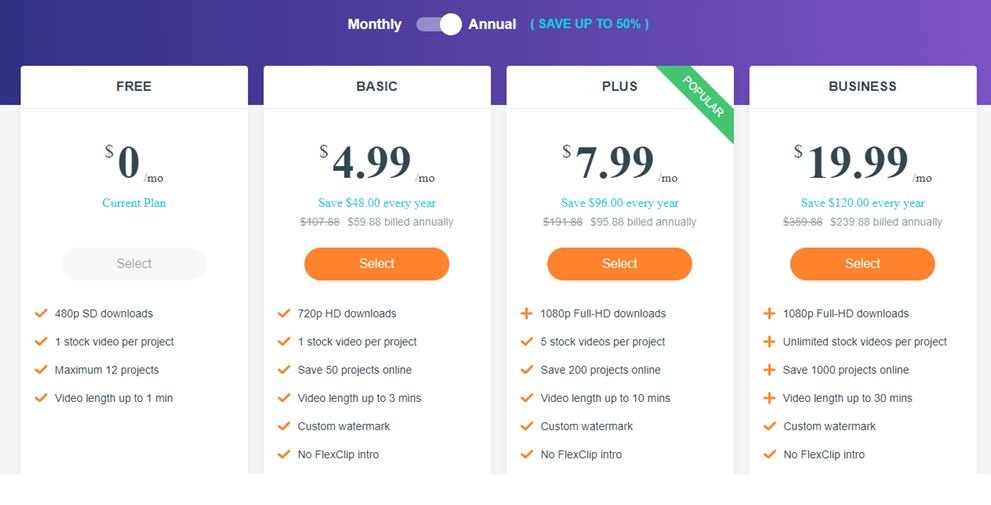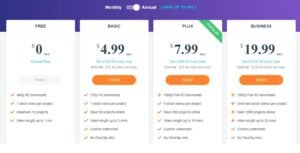 In Conclusion
FlexClip is a convenient online service for those who want to quickly create effective promo videos, but it must be considered that it becomes almost necessary to spend about $5 per month to be able to use the service in the 'Basic' version given the limits of the free plan.