Gone are the days when having a zero figure was the norm to be a model. Slim and trim figured women can flaunt their sexy curves to look adorable; there is nothing wrong with that. But when it comes to the bulkier lot, their confidence level might be undermined. Leave those body-shaming comments out of your mind and surround yourself with positivity. Look like a goddess in the trendiest and most stylish plus-size clothing by shopping from our boutiques online.
Read on to know all the tips and tricks of the trade
What is plus-size? 
Every country has its norm when it comes to plus-size clothing. Some believe that anything that is size 14 and over should come under this category, while others consider 18 and above to be the apt size for girls plus size clothing.
What clothes should they wear?
On the contrary, some oversize women are unperturbed by their figures and, are least bothered about what people have to say. It is good to carry this attitude, but even better considering crucial points in mind that could enhance your beautiful curves. Accentuate the feature that you adore the most to grab more attention.
You may want to wear tight-fitting clothes, but that is a strict no-no in your case. Yes, a proper fit is something you can bang on.

Layering is the top fashion trend for fall and winters. Go light with your layering, as it helps to upgrade your features a great deal.

Experimenting with bold colors will emphasize your appeal beyond the realms of your imagination.

Add subtlety by opting for

smaller prints

rather than sporting bold or large prints as they will impart a heavy look.

Accessorize

your outfit to elevate your charm, but keep it dainty.
Tired of trying all the tricks to flatten your belly? 
Here we are, with a bunch of ways to hide your belly fat without sweating in the gym:
Choose outfits that fit loosely around the waistline. On the same lines, detest apparels that tend to become bulky around the tummy.

Choose

cardigans and jackets

that are longer to reduce the body width. 

Go asymmetrical with top designs to camouflage the bulging belly and never tuck them in. Printed tops will look better than plain ones.

Wear belts just above the waistline. 

A foundation garment can serve as an excellent option to temporarily alter the body shape for a fashionable figure.
Many boutiques do not offer options for plus-size clothing. There is no reason to worry. Shop for some trendy boutique clothing for women from the quality collection at Paisley Grace Boutiques.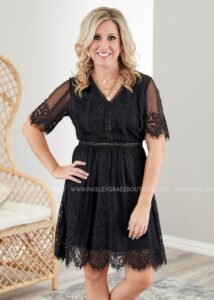 Elegance to the epitome, this black lace dress is sure to surge adrenaline levels. Knee-length high heeled boots or wedges fit well with this sexy outfit from our clothing boutique. This dress has the perfect drape and fall for the size-up women. Style it up with dark red lipstick and wear your hair open or in a high-bun to dazzle like a star.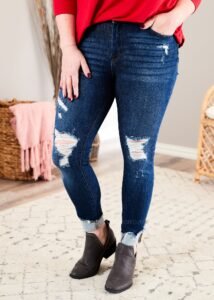 Ripped jeans can rock on any body type. You can look sassy like any other dame on the street by collaborating ripped jeans with plus size tank tops or plus size tunic tops. You are ready for a casual meet with friends or family! Sneaker does the right judgment with ripped jeans. A smart crossbody bag is perfect to steal the show.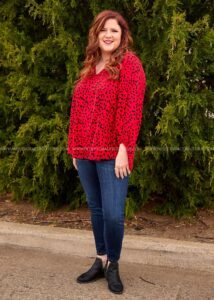 This red plus size top will bring immense freshness to your look. It can be paired with skirts or jeans, to make gentlemen flock near you. Wear some classy sunglasses with this hot top to flaunt a chic look. Wear it with ease to a party with your best buddies and throw around your confidence.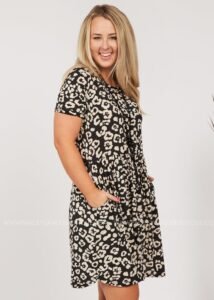 Perfect Valentine's Day outfit that you can wear with a long-knitted cardigan tokeep you warm in the chilly weather.Wear booties and gold hoops to add a dash of style. Your beau will buzz around you just like the bees. With the addition of little accessories, this dress will cast your exuberance.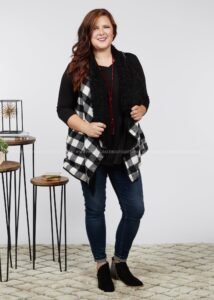 A perfect piece for layering, this comfy vest is stylish and classy. Wear a full sleeve back or white top underneath and pair it with jeans for a cool fall outfit. Add pop to your apparel with some statement jewelry like the Burgundy Shimmer Strand Necklace . 
When confidence is your forte, size is never a concern. We have trendy plus size clothing options that can make you dress up or down in minutes. Just go berserk with the wide range and varieties of clothes that we offer at Paisley Grace boutique for all ages. We have carved a niche for ourselves among the several boutiques online. Trust and satisfaction is what brings our customers back to us. We strive for excellence to live up to our customer's expectations.