Pakistan — a state where hundreds of culture blend together, giving out a unique and distinctive identity to the country in the world. And much about Pakistani clothing style, the design with hand-made craft implantation and its discrete embellishments-slash-patterns have helped set the country's place at the top in the most beautiful Asian Clothes list. Women from around the world, having Pakistani roots, still embrace their traditional clothing at many events. It, however, does not whether the vent is taken place in the state or outside. Pakistanis love to wear and flaunt their unique attires for the world, to see, wow, and bowl over.
Finding Asian clothes online – A challenging Task
Without a doubt, finding beautiful and traditional Asian clothes is hard when you're living abroad — oceans away from your homeland. Admittedly, nothing worries you the most when you have to attend a Pakistani wedding in the UK, and you have yet to find dresses according to the event's need. However, with the course of time, many shops and stores began to launch their collection of Asian clothes online, where you can find Pakistani and Indian dresses easily. Libas e Jamila is one of the very online brands and stores that offer you their gorgeous Asian clothes collection, from which you can have at least 20 different categories to decide your outfit for the event.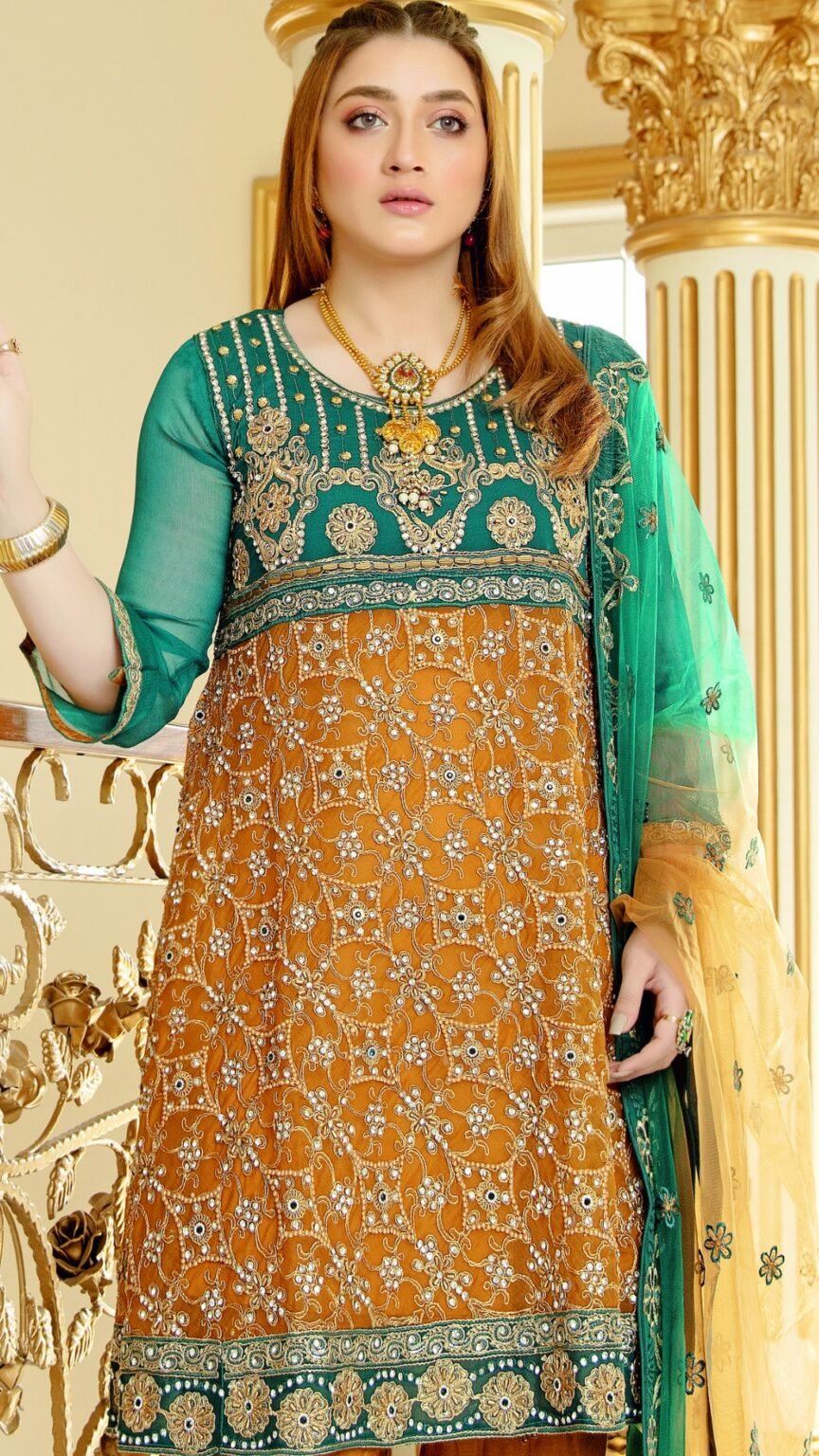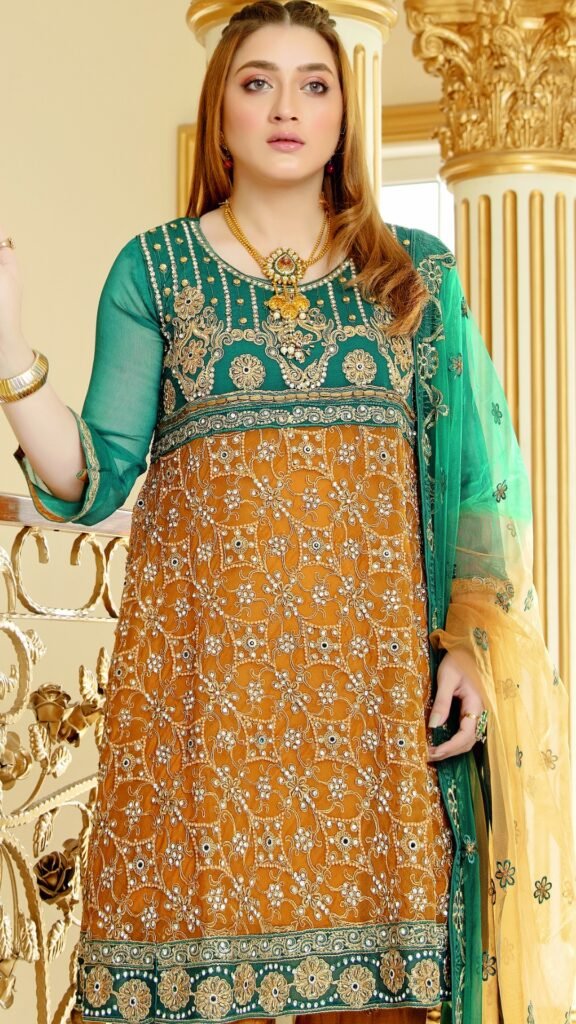 Pakistani Actresses and their Love for Traditional Clothing
Being a Pakistani, the most unfair thing you can do is not truly cherishing the beauty, colours, elegance, designs, and charm of clothing. And even the most popular and famous people from our drama, film, and beauty industries can not resist their love and passion for traditional clothing. That is why in many award shows and red carpet events, you find most of the celebrities embracing their cultural values and traditions when walking in proudly wearing beautiful Pakistani-style dresses. And here is why we are listing down the four best Pakistani Celebrity traditional clothing from which you can take inspiration and blend in your ideas to give it a 'you' flavour.
Sarah Khan
The new actress has made quite a bit fan following over the past 2 to 3 years. The moment she stepped into the industry, the general public has welcomed her with open arms and hearts. It is still not uncommon to see young girls getting inspired by her dressing and fashion. Be it Eastern or Classic Western-style clothing, soon-to-be a mommy, Sarah looks dazzling in every article of clothing that she wears. Not only that, the choice of her dresses has become her trademark. Eastern enriched style, oozing traditional and cultural values, is her favourite attire to wear at each and every gathering. And so, she becomes the main centre of attention wherever she goes. It will not be wrong to state that Sarah Khan is now known for being a Style Icon In Eastern Traditional clothing.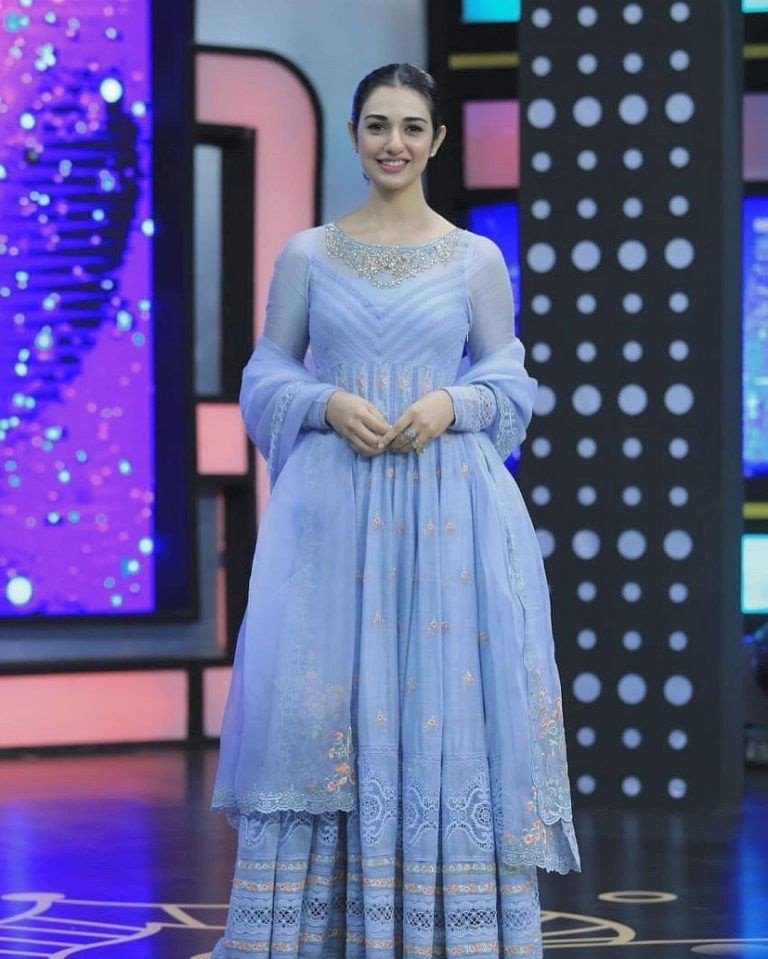 In a recent show, she wore a light — aqua blue dress. And WOW! The gorgeous dress is contrasting well with her sun-kissed, tanned skin tone. Visually, the dress seems plain, with no other cut-style patterns or designs. However, the beauty of this elegant dress speaks for itself. It was made with love and with plain, embroidered chiffon, leaving the latter in cotton fabric. She pulled a middle-parted sleek hair bun and a natural pink makeup look. Quite frankly, she needed nothing more to look like a runaway princess.
Yumna Zaidi
Yumna Zaidi's Eid dress 2021 has become a new obsession of the young ladies overnight. Given that most people look up to Yumna for her mind-blowing acting skills, she had also stirred a lot of hearts with her beautiful and up-to-date fashion style. Yumna is seen experimenting with different styles recently. Until now, she has given us many eastern and western looks. But according to her fans and her fan-boys, she is loved the most when she wears traditional dresses. Obviously, being the natural beauty she is, she rocks every eastern outfit she wears without putting in much effort. And in all honesty, makeup and hairstyle are not what she needs to pull off a great look. Her being a doll is enough to complete the Fashion look.
On her Day-1 of Eid, she wore a simple yet classic olive green dress that did not have much detailing and work done on it. She paired her look with statement ethnic jhumkaas, maroon—traditional shoes Khussay, and bright red lip color. There! She needed to do only that much to put a smile on our faces.
Mahira Khan
In 2018, the infamous "Humsafar" actress won The Style Icon Of The Year, and why would not she? She has given us many fruitful designs and colors from white to sky blue, pastel pinks, bottle greens, and her most famous "Humsafar" black dress. Every outfit that she wore in the series became a new trend back in the day.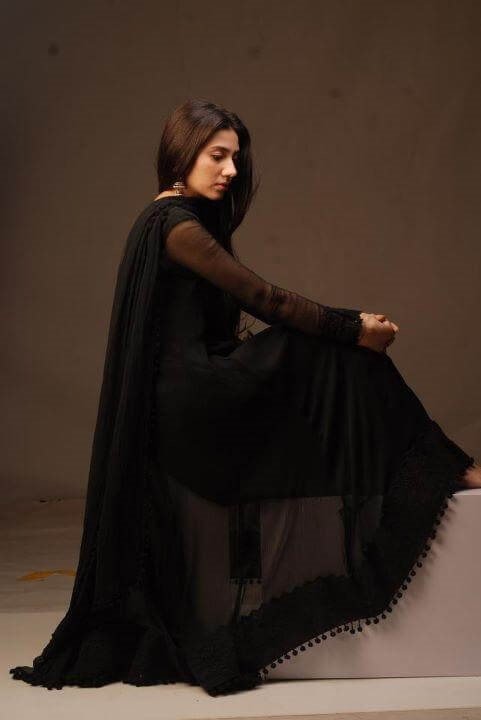 However, she likes to doll herself up with white dresses the most. Every white, pale-white, cream, ivory dress she wore left us all in complete wows. Her obsession and love for white bring us the most elegant and beautiful white 'looks; that we can opt for many family matrimonies, birthdays, Eids, and even on our own wedding.
Aiman Khan
The famous twin sisters of the industry, Aiman and Minal Khan, have taught us well the art of dress to impress. The child actor turned into a superstar overnight has become a Fashion Icon. Not only that, with millions of fan following, she is one of the most highest-paying celebrities in the industry. In an interview in 2020, for the clothing brand launch 'Aiman Minal Closet,' she mentioned how her love to dress every day turned into her passion, to create great design clothes that are modern yet classy. The two sisters have been working hard to give their audiences the most sumptuous dresses that one can wear on Eids, Family weddings, and formal gatherings. Some of Aiman's looks still leave up sleepless at night, daydreaming in the daylight and asking more with all our might!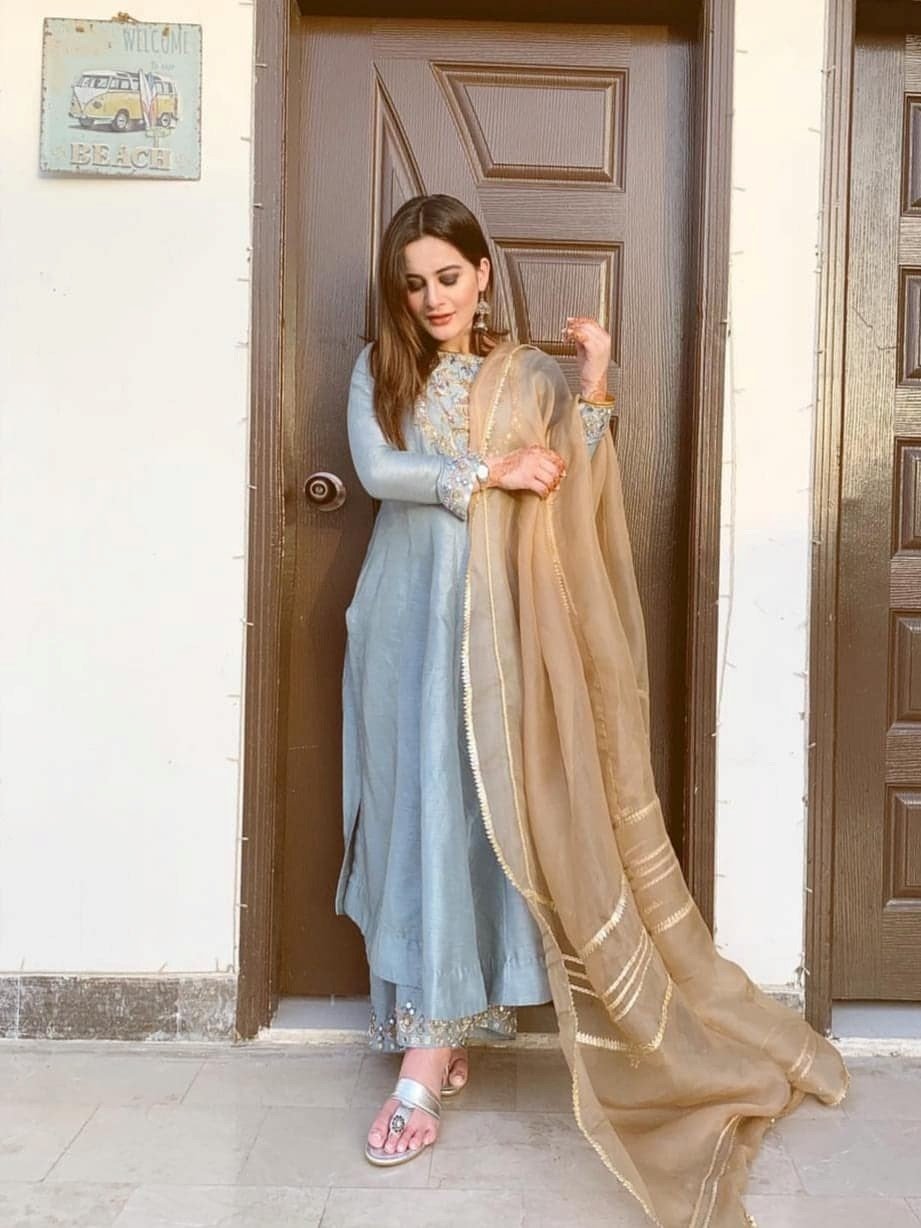 Conclusion
So, here is the list of the best-looking celebrities wearing Traditional clothing. Yes! We could have mentioned more here because like we said, it is not uncommon to see our famous and beloved celebrities showing up on awards and Tv shows, completely dolled up in traditional clothing.
To view more of our "Top lists" keep visiting our site and have more ideas to opt for the next wedding!