How to make a GIF smaller so that it can be transferred and downloaded easily and quickly?
In fact, there are so many factors that contribute to managing the overall size of GIFs, such as the number of colors inside the GIF, dimensions of the GIF, and the number of frames included inside the GIF file.
The following details 4 different methods to make GIF smaller. Let's check them one by one.
Method 1. Trim GIF Frames
MiniTool MovieMaker is a free yet professional GIF editor, which enables you to trim GIF, split GIF, add text to GIF, apply effects to GIF, change GIF resolution, etc. All in all, it is an ideal option when you need to trim the unwanted GIF frames to reduce GIF size.
Step 1. Run MiniTool MovieMaker on your PC and Shut down the Movie Template window to access the main interface.
Step 2. Click Import Media Files to import the GIF. Drag and drop it onto the timeline or you can simply click the + icon on the thumbnail of the GIF.
Step 3. Hover your mouse over any edge of the GIF to get a trim icon. Then drag the icon forward or backward to trim the unwanted GIF frames.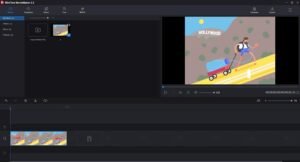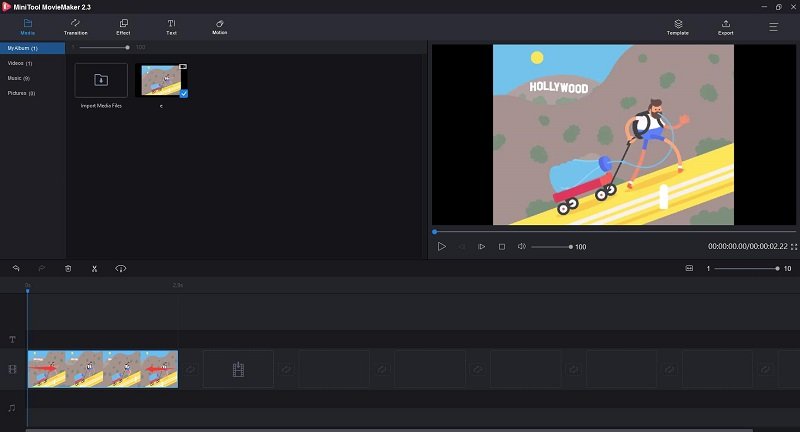 Step 4. After trimming the GIF length, you can adjust the color of the GIF, add music to GIF, add text to GIF as well as apply effects to GIF.
Step 5. When you're done, click the Export button. Then set the output format as GIF, rename the GIF file, and change the destination folder as you like.
Method 2. Crop Away Extra Space
Another useful trick to make GIF smaller is cropping. GIMP is a free and open-source raster graphics editor, used for image retouching and editing, free-form drawing, converting between different image formats, and more specialized tasks, such as crop GIF.
Step 1. Open GIMP on your computer.
Step 2. Go to File > Open to import the GIF you want to crop.
Step 3. Switch to the Tools tab, choose Transform Tools, and select Crop from the drop-down list.
Step 4. Select the portion of the image you want to keep by clicking and dragging. Then press the Enter key.
Step 5. Once finished, click File > Export to save the cropped GIF.
Note: For saving the cropped GIF, make sure to select the As animation checkbox.
Method 3. Reduce Dimensions
Easy GIF Animator is a powerful GIF editor, which is designed for creating animated pictures, banners, buttons and GIFs. With it, you can easily resize GIF while maintaining the aspect ratio. Besides, it provides extensive editing features for you to optimize GIFs.
Step 1. Run Easy GIF Animator on your computer.
Step 2. Go to File > Open to import the GIF.
Step 3. Click the Resize Animation button.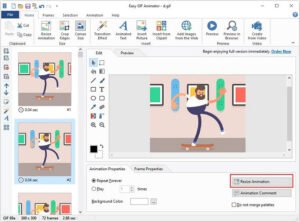 Step 4. Here are two options – Size in Pixels and Size in Percentage. Choose one and enter the value you prefer in the boxes to resize GIF. Finally, click OK to save all changes.
Step 5. Navigate to File > Save as to download the resized GIF file.
Method 4. Color Reduction
Another approach to make GIF smaller is to reduce GIF colors. Ezgif is a simple online GIF maker and toolset for basic animated GIF editing. It is useful when you need a GIF size reducer to decrease the number of colors in each frame.
Step 1. Visit the Ezgif site on your web browser.
Step 2. Click Choose Files to select the target GIF and tap on Upload and make a GIF to start uploading.
Step 3. Tap on the Optimize option above the GIF.
Step 4. From the Optimization method dropdown list, you can select Color Reduction or Color Reduction + dither, and then set a value for Reduce colors to. Alternatively, you can simply choose Use single color table for all frames.
Tip: Each GIF frame can use up to 256 unique colors, and by reducing this number, you can achieve a smaller file size.
Step 5. Click the blue Optimize GIF button.
4 different yet equally effective methods have been introduced above. Why not choose one of them and have a try? It won't let you down.