If you have a property and have enlisted it to sell, you might be wondering what's next? As many properties enlist daily. How will you keep your property in the spotlight from the other ones? Will that property be able to withstand and attract customers in the market? 
No matter what the value of the property is. It won't make it easy for you to make the property noticeable. If you want the buyers to notice your house, you should follow some simple yet effective tips. These tips will attract buyers, and you can sell it very soon at the best rates. 
Good SEO Practices
The search engine optimization is somewhat essential for the property. It helps your listing to seek the attention of buyers by choice of good words in the article. All an estate agent has to do is put the right keywords and phrases for the property that defines it perfectly. So, the buyers can find it in the search result.
When talking about real estate agents, they would enter keyword phrases ranging from two to four words. That includes the city, state, and neighborhood. However, this is not the right way. A real estate agent should think like a buyer or customer. He should determine how a buyer would search for a property.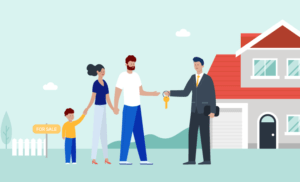 Attractive Pictures
The pictures play a great role. It attracts the viewers due to its beauty and lighting. You or the real estate agent you hired should take beautiful shots of areas like the backyard pool or gourmet kitchen. It will grab the attention of viewers. 
Moreover, the agent should not click the pictures from a phone. He should rent a good camera and get some artificial light to give the pictures a professional look. However, if it seems a bit difficult for the agent, he should hire a professional photographer for this purpose.
Using Email
The numerous emails that you see on a daily routine can flood your inbox. However, you mark many of them as spam. So, why not take advantage of this platform? Typing an email with catchy words and showing off your property with a beautiful picture can help a lot. You can simply send that email to your list through which the potential clients will notice it.
Essentiality Of Social Media
Don't you know how huge a role social media plays in marketing? So, why wait for something else? A quick and simple post about your listings' existence can catch exclusive clients.
Moreover, by the term social media, it can be any platform like Facebook, Instagram, and Twitter. Thus, the best platform among all would be the one where you have more friends and followers.
The Personal Network
It is not only about technology. You can also meet your relatives and friends on the cup of coffee and talk about your listing, and they might know someone who is in the real estate market. The more you connect with people, the more chances to get the customers interested in your property. Publishing an ad in a newspaper or distributing flyers are also effective ways to attract more people.
Past Clients
A real estate agent with numerous past clients can get many benefits. They can contact their clients and let them know about the listings. Thus, the clients would know some of their friends or family who have been looking for a home in the market. 
You can find such a real estate agent in Laurel, MD, who would sell your property quickly. The Foladun & Associates in Laurel is well-known for residential property listings.
Open House
The open house event is a great idea to show your property to viewers. While providing a tour of your property, you can find the most interested customers in buying the property. Moreover, it will build your network and satisfy the viewers as you show them the property personally rather than in pictures.
Conclusion
The job of a real estate agent is not an easy one. You have to come in the listing, or else you can lose the opportunity of getting a commission. Moreover, it takes effort and time to satisfy the clients by selling their property at the best rates. That too, in a short period. However, you can sell your property quickly and at good rates, if you follow these simple tips. These tips will prove to be the most effective in getting your property noticed and sell it quickly.