There is a mobile app to help us avoid traffic tickets and violation fines.
A mobile app can transform your mobile phone into a heater to provide you with heat.
A mobile app can give you a rich man's feeling by letting you count a million dollars.
An app allows you to have a fake conversation with fake profiles of people that you created.
There is even an app to tell you if the sun is out or it is dark. You don't have to bother to check that out yourself too.
This blog isn't about the 'weird things that mobile apps can do for us.' It is about the apps that have made out lives easier and ensured that we have one less thing to worry about.
Statista estimated that there are 6.3 billion smartphone users in the world right now.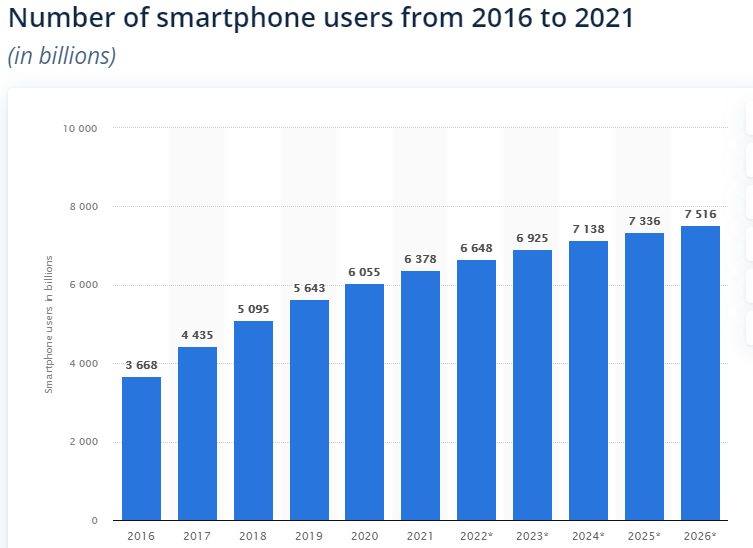 Add to it the number of tablets and smartwatches we use; you can't even make a wild guess what number of devices we are talking about.
All these devices have one thing making them useful – mobile phone applications.
In today's world, these applications are big (1.96 million apps only on Apple Store), making them is profitable (the worldwide mobile app revenue will be $693B in 2021), and millions are ready to use them as soon as they are released (218B apps were downloaded in 2020 alone).
On average, there are 20 apps on the smartphone of an average US user. So, thanks for the billion apps, but we use only a few; these apps are those that add to our convenience and make our life hassle-free.
This blog discusses eight such apps that have simplified our lives, and we can't be anymore thankful that they exist:
WhatsApp – 4.1 stars on Google Play Store
The highest determinator of the success of a service is when its name becomes an adjective. "Let me Google it" or "Just WhatsApp me" shows how common – and crucial – these apps are in our daily lives.
WhatsApp has revolutionized messaging as we know it. If there is one app that made the built-in text messaging app on your phone redundant, it's this app. Over two billion people use this app to make calls, send and receive texts, voice notes, images, videos, locations, documents, audio, and even run their business.
With almost 7 billion downloads on the Google Play Store, this app sits at number two in the list of the most downloaded app of all time.
Weather App
This app just sits in the corner of our mobile phone, performing the simple function of displaying weather on the home screen. This might sound a menial purpose as compared to the tasks we do through other apps.
No one wants to get caught in unexpected rain without an umbrella or dress too much to perspire all day when the mercury is high.
In research on Mobile Weather Application (MWA) usage, 80% of respondents say they check MWAs at least once a day.
So, the weather app is the most important only-work-no-show app on our mobile phones.
We Transfer – 2.7 stars on Google Play Store
Do you remember the early days of data transfer between mobile phones? There was a time of infrared where you had to touch the black strips on two mobile phones to intimately transfer the data. Then Bluetooth came, which allowed data sharing from a distance.
With We Transfer and similar apps, data sharing has become faster, secure, and convenient. No matter how big the size of the file is, you don't have to carry the entire file in your system. Just share it over We Transfer without worrying about the distances between the two devices.
Google Maps – 3.8 stars on Google Play Store
You can't talk about convenience apps and leave out apps and services by Google.
Google is everywhere in our life – from home to work, to even finances. Google has made us so much dependent on its services that it's hard to pick which one adds more convenience to our lives than the other.
However, taking the arduous task of singling one out, I think Google Maps is the best of the lot. It makes navigation simple and exploration effortless. Whether you have to go to a friend's home or look for the nearest bakery, Google Maps is your answer.
With its real-time traffic data, user-generated reviews about places, and contact details of businesses, Google Maps is a must-have on your mobile phone.
Microsoft Launcher – 4.7 stars on Google Play Store
Microsoft launcher is an application to make your smartphones even smarter. It comes with a variety of themes, customizable icons, and widgets. You can easily access your tasks, documents, calendar, notes, documents, and screen time.
It allows you to organize everything on your mobile phone. It turns your smartphone into your home PC – where you can work, schedule appointments, and do video calls.
Flipboard – 4.1 stars on Google Play Store
Today's world is of information overload. Information is being bombarded at us from all directions, and we can't avoid it no matter what we do.
But one has got to stay informed. There are topics about which we want to learn and explore in more detail. Flipboard is a filter that stops all the unnecessary information and passes just the knowledge that we want to consume.
Here, you can find news articles, reports, interviews, explainers, and blogs from publications like the BBC, CNN, The Washington Post, The New York Times, The Wall Street Journal, Vanity Fair, Rolling Stone, and more.
You can also choose topics and personalize the content as per your taste. You can choose topics from politics, entertainment, tech, sports to fashion, health, wellbeing, design.
It is your personalized news bulletin with issues and topics of your choice.
Mint – 4.5 stars on Google Play Store
The ability of mobile phone applications to handle complex details like our banking transactions and passwords makes them such an indispensable part of our lives.
Mint is a popular budgeting app that allows you to merge all your financial accounts into one place. You can manage your earnings and spending, pay bills, and formulate budgets from this one access point.
You can also add your investment portfolio to the app to effectively track and manage all your investments as well.
Mint implements a world-class security system to conceal the transactions and keep the personal data of its users safe. There have been issues of data breaches and overbilling with other apps like airG scam, etc. But, Mint gives you peace of mind by bringing all your finances under one dashboard.
Google Drive – 4.3 stars on Google Play Store
I tried very hard to list only two services by Google in this list. Man! that was tough.
Like a storeroom in your house or a storage room for your business needs, Google Drive is your place to dump all your – wanted and unwanted – files and access them from anywhere.
Working on an article? Upload it to Drive and finish it while sitting in your office or traveling on a train. Running out of space in your cellphone, upload the data to Drive and clear up space.
The biggest advantage of Drive and other cloud services is that one doesn't have to carry external storage devices. All the data can be accessed through one URL.
Final words
Thousands – maybe millions – of apps help us carry out our day-to-day tasks with ease. Now, we have become so dependent on them that we can't imagine ourselves not using them.
What apps are on your list of most productive ones? Do tell us in the comments below.