SAP MM:
The SAP MM module is referred to as a fundamental part of the SAP ERP software. SAP Material Management is used by various companies to process purchase and transaction data because it is cost-effective. SAP Material Management refers to a logistics function that helps the industry from procurement to product delivery. The SAP MM module consists of several modules to handle the sale and purchase of materials, check the status and quality of materials, and pay vendors.
To gain knowledge on the SAP MM module, enroll yourself in the SAP MM Training in Gurgaon. The training will help you in enhancing your SAP MM skills and will also prepare you for the SAP MM certification. It's a complete package for a candidate who is aspiring for a career or certification in the field of SAP MM.
SAP MM Certification:
The SAP MM certification is primarily intended for those candidates who have experience in SAP ERP and business consulting and want to build their careers as SAP MM consultants. The SAP MM certification test confirms that the candidate has the basic knowledge and proven skills in SAP material management. This test confirms that the candidate is well acquainted with the characteristics of the consultant and can apply this knowledge in practice in projects led by an experienced consultant.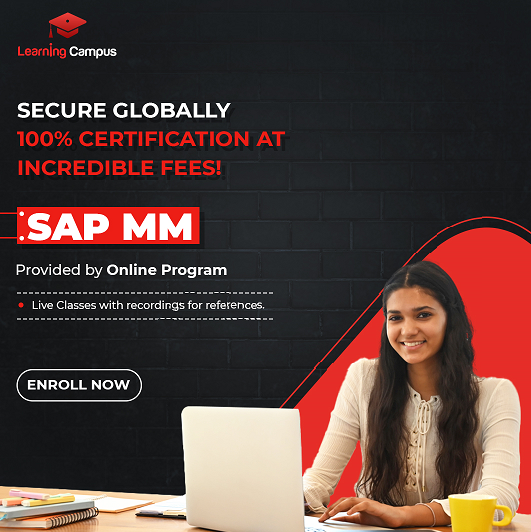 The SAP certification exam is designed to assess SAP skills, such assessments are determined based on an understanding of SAP materials management. SAP offers certification for associate, professional, and master's levels, they have determined this certification level according to the candidate's actual experience and specialty in the subject area. To help you successfully pass the SAP MM Certification Exam, SAP recommends a combination of training courses and hands-on experience to prepare you for the certification exam, as the questions test your ability to use your training and professional experience.
Advantages of obtaining an SAP Certificate:
As the most sought-after certification, IT professionals who are certified and experienced with the SAP platform are highly regarded. It takes years of experience to gain specialized knowledge. This is a challenging certification exam that requires quality preparation. This is acceptable for both small and large companies.
SAP certification helps you ensure:
Quality work
Recognize skills
5 salary figures
Upgrade prospects
New job opportunities
Career opportunities for an SAP MM Certified Professional:
SAP MM certification provides a good job in the ERP market in many areas. Knowledge of business processes in materials management is essential for SAP professionals. Areas of SAP MM certificate holders can be:
Group leader
Purchase manager
Materials Manager
The end-user of SAP
SAP MM Consultants
SAP Functional Analyst in MM
SAP MM functional Configurator
SAP MM Plant Maintenance analyst
The above profiles require experience of implanting a complete life cycle with appropriate planning and analysis skills. Many companies are looking for professionals who have 2 to 4 years of experience. SAP MM is created to facilitate the following organizational processes in an enterprise:
Procurement
Material evaluation
Account verification
Inventory management
Consumption-based planning
Vendor Master and Material Master Data
Growth in terms of Salary:
SAP MM Associates or SAP MM Trainees Consultants provide the required highly skilled pay packages. It is a leading area of ​​logistics that includes warehouse management, production planning, and sales and distribution. You can upgrade to SAP MM/WM or EWM for your further career growth. SAP MM consultants are in demand all over the world. However, serious commitment is required to accomplish prevailing standards. While certification is rarely mentioned in job postings, it will go a long way in determining your worth.
The salary paid to SAP MM certificate owners in the US is approximately $115,538 and this experience will help in updating your salary data.
So to build your career and gain the certification in SAP MM, enroll yourself in the SAP MM Online Training in India. The aim of this online training course is to provide quality globally. This course provides you with hands-on experience and practical knowledge. It also prepares you well for the job market and certification. The SAP MM course is offered by a highly experienced instructor with over ten years of industry experience.
Conclusion:
SAP certification requires sufficient knowledge of the relevant terminology for which you can prepare yourself, your knowledge and skills are very important, along with certification, because certification is not everything, you need knowledge on how to solve management problems.
The SAP MM certification is primarily intended for those candidates who are from SAP ERP and Business Consulting and want to pursue a career as an SAP MM consultant. The SAP MM certification exam confirms that the candidate has basic knowledge and proven skills in SAP Materials Management. This exam confirms that the candidate has a general understanding of these characteristics of a consultant and can apply this knowledge in practice in projects under the guidance of an experienced consultant.