If you are looking for the best games on Android without spending a dime, here is a selection of free games that will let you pass the time for less.
There is no shortage of free games on Android and the Play Store. But today, there are so many that it is challenging to find quality titles capable of remaining more than a few minutes in the memory of your Android smartphone.
So here is a small selection of old and new free games of different genres and themes. Check here to simply download their desktop version. MANAGEMENT GAMES
1.REBEL INC.
Do you know the Plague Inc. game? This is a very popular and entertaining simulation that puts you in control of an epidemic intending to eradicate all life on the planet.
Rebel Inc. takes the same principle and is developed by the same creators, but this time you will have to fight an insurgency and keep your power in place over a region.
It is an excellent free game which is also playable offline. An in-app payment is offered to remove advertising.
2.THE SIMS MOBILE
Sims and smartphones are a long story. Electronic Arts' flagship management license returned with a new copy in 2018: The Sims Mobile. This new opus takes up the basic principles of the license: the player creates a human avatar whose life, habitat, work, and social relations will have to be managed.
Still in free to play, with in-app purchases, The Sims Mobile was much better received than previous episodes thanks to more generous content without going to checkout.
3.ANIMAL CROSSING POCKET CAMP
Animal Crossing is a well-known license from Nintendo, and like Super Mario or Fire Emblem, this one has also exported to mobile and is called Animal Crossing Pocket Camp. The goal of the game is to create and manage your campsite in a world of funny animals.
This title gives pride of place to life simulation, and you must heal your friendship with the characters who visit your camp by carrying out the quests they submit to you. The game also encourages you to meet with other players by taking tours of your respective campsites and exchanging materials.
4.ROLLERCOASTER TYCOON TOUCH
RollerCoaster Tycoon Touch is the mobile version of RollerCoaster Tycoon, originally released on PC. Well suited to mobile,   RollerCoaster Tycoon Touch has put aside the almost unreadable tables of other titles available on the Play Store. The editor mode allows regulars as well as new ones to have fun.
Be careful, though; this is free-to-play, so you can choose to be patient and use the virtual currency to unlock attractions or spend real money.
5. FALLOUT SHELTER
Released in 2015, Fallout Shelter was initially intended to be a small application intended to promote the console and PC game Fallout 4. However, it is a classic anti-nuclear shelter management game in which the player must manage an underground population. Survivors make them cohabit, work and send some on expeditions abroad.
It's pretty, smart, and the aesthetic is sure to please fans of the post-apocalyptic role-playing series.
6. SIMCITY BUILT
SimCity is the benchmark game in terms of city management. On this mobile adaptation, you can build your city from every angle: roads, buildings, shops, etc. Become an exemplary mayor of a vast megalopolis as you improve your city.
Please note that the game is free-to-play, and you will have to spend money on specific services such as speeding up work, etc.
SKILL GAMES
1. BALLZ
The brick-breaker game is one of the oldest concepts in the gaming world. Yet, it often happens that someone manages to reinvent it by adding simple little touches, from a simple power-up game-breaker to revolutionary gameplay.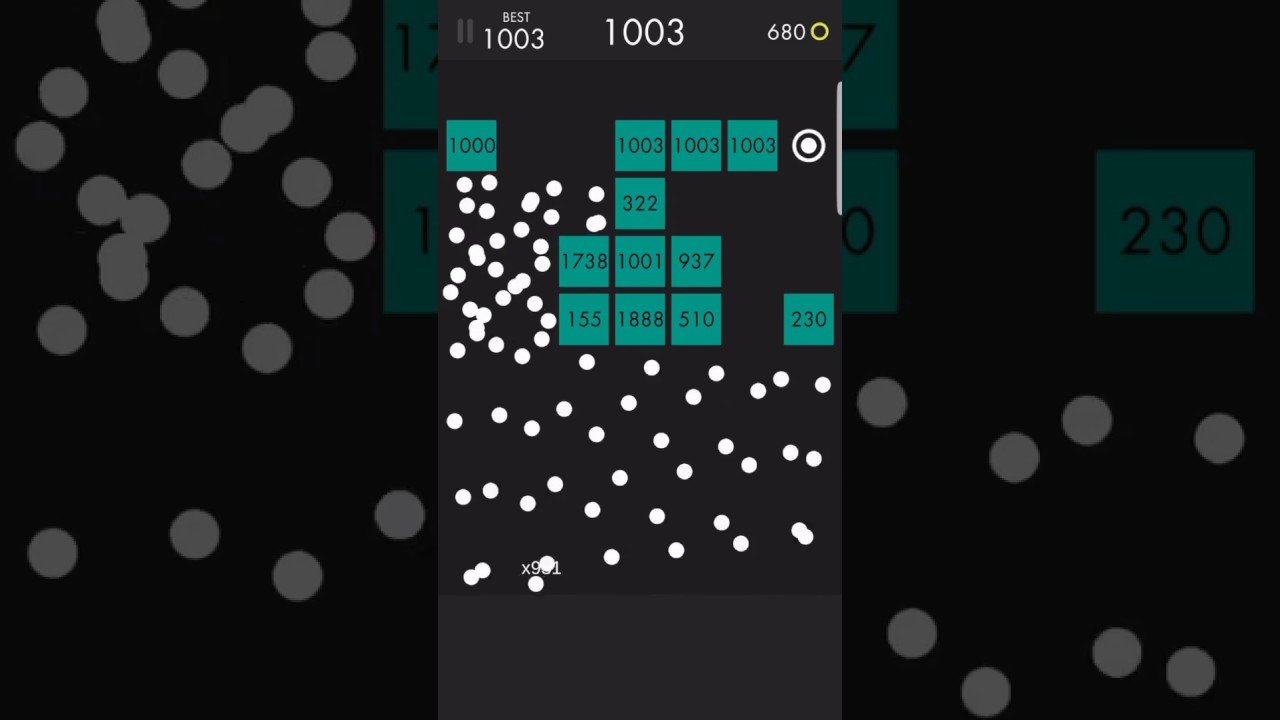 Ballz rather falls into the second category since it is not a question of preventing the balls from falling to the ground, but just breaking bricks requiring a certain number of hits before bursting while collecting new balls that will return the next round easier.
2. SKY CHASERS
In Sky Chasers, the player has to help a pilot to get from one point to another of a level using a small vessel powered by two reactors. By pressing the left part of the screen, the left reactor is activated, and by pressing the right part, the right reactor.
The handling is intuitive, the pixel-art graphics are particularly cute, and the game has a very progressive difficulty making it very accessible. A free little gem that only offers a single in-app purchase to make advertising disappear.
3. DUET
In Duet, the player controls two small balls that spin one way or another around an invisible axis. The goal? Get from one end to the other of the ten or so levels that make up the game without breaking a single one on the various moving or stationary platforms that stand in its way. It is a game of skill whose principle is understood in a few seconds, but which quickly warms the neurons with specific, sometimes tricky passages.
4. ARCHERO
Archero is a game where, as its name suggests, you have to control an archer who will shoot anything that moves in an atmosphere reminiscent of the famous Gantlet.
The developers have primarily succeeded in making the game addictive thanks to a succession of objectives that you will necessarily want to achieve.