Weddings are a big day for both bride and groom, but we always seem to focus more on the bride. This doesn't make it any less important for the groom. The groom must look nice as well and they are conscious about it the same way as the bride. Groom's outfit holds the same importance as the bride's outfit. As a groom, it is important that your outfit should complement the bride's dress and you should feel comfortable and stylish in it. You will have a lot of memories from that day so make sure all these are good and when you look back at these memories in the future you will feel good about them.
06 Stunning Wedding Outfits for Men to Make You Feel Suave on the Big Day
When it comes to selecting a men's wedding outfit it might seem like there aren't many options but in fact, when you start looking at the outfit choices you will see a great range of them. You can choose any outfit, but most people can get confused while selecting such an outfit. For such a big day nervousness is understandable and you can end up making a wrong decision because of these nerves. Following are some of the outfit choices that will suit you a great deal and will be great for this year's wedding, following are some of the outfit ideas for you
Smart Casual Wedding Look
If you are someone who likes comfort over style, then you should look for casual wedding outfit looks. You will be more at ease with such outfits and will be more relaxed. If you are going for something extremely casual, then instead of choosing a three-piece outfit you can just go for a button-down with slacks. For a beach wedding, you can select a loose button-down shirt with your pants as well. Your shirt doesn't have to be tucked in for a beach wedding as well. But if you are planning on wearing three pieces then you can choose the one that is light fabric and fabric that is comfortable for you. You will look more relaxed in lighter colours. But for a good casual look, you can wear a button-down with pants and it will be the most comfortable wedding outfit for you.
Summer Wedding Men's Outfit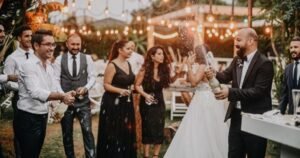 Summer weddings are extremely casual, but you can also go for a formal look for a summer wedding. If you are planning on having a wedding this summer, then you should start looking for summer outfits for the groom from now on. If you are having an outdoor wedding then it can get extremely hot and you will have to avoid wearing a three-piece because it won't be something you will be comfortable in. even if you are planning to wear a three-piece suit which consists of a jacket, pants and a waistcoat also known as a vest.
Given you are wearing a three-piece outfit you can also ditch the jacket at the last moment and can wear a vest along with your shirt and pants instead. You can also skip the vest entirely throughout the event or at some specific part of the event. You can attend your ceremony in your desired outfit and then can change your look a bit by making changes in your outfit.
Stylish Beach Wedding Outfit
Beach weddings are extremely fun and can be even more fun when you get to wear your desired outfit on your wedding day. If you have decided on having a beach wedding, then there are many options for you to explore in outfits as a groom. You can go for the formal style of wearing a jacket and pants. But you can also go extremely casually wearing shorts under your shirt.
You can wear loose shorts on your big day and can wear different patents as well for your beach wedding day. You can wear different styles for a beach wedding and anything that makes you feel comfortable and compliments your partner's outfit should be worn. Beach weddings can be quite humid so the more casual you are the better you will feel in your outfit.
The Winter Wedding Suit
Winter weddings are mostly indoor ones and the ones where you can carry the most formal style with great ease. Indoor weddings with the heating system will make you feel very better, and you won't feel too cold in any outfit you decide to wear for your wedding. While picking your outfit you must choose the fabric wisely. You can't go for the lighter fabric so you should choose the ones that are insulated and thicker unless you want to shiver with cold throughout the wedding. A wool blend or pure wool three-piece will look good on you and will keep you warm and cozy throughout the wedding. You can wear such outfits formally too and will look good as our wedding outfit.
Black Tie Men's suit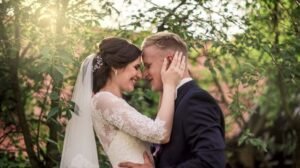 If your wedding is a black-tieevent, then you will have to wear a black tie with a tuxedo or a normal jacket. To look different from the guest you must make sure your outfit stands out and you can do that by making a good choice in outfit selection. Wearing a tuxedo for such an event will look great and will make you stand out from other people. It is your special day as well so make sure you make the most of it.
Traditional Scottish Wedding Outfit
Carrying on your traditions is also very important so if you have Scottish origin then you should make sure to wear a Scottish outfit for your wedding. A Scottish outfit contains a kilt with a jacket. The kilt must be plaid, and you can choose the color of your liking for the kilt. Such an outfit like Prince Charlie outfit will look great for someone who is Scottish.
Conclusion
So, these are all the groom outfit ideas that you can carry. All these outfit ideas will not only look good on you, but you will feel at ease wearing such outfits. A confidence boost is very important during your own wedding to tackle all the nervous energy and that can be achieved through a good outfit as well.