Pakistani salwar kameez is one of the prettiest and most desirable outfits for every occasion, festival, and special event. Either it's a wedding or an evening party Pakistani salwar kameez always tends to be the perfect choice for any function. 
This traditional outfit of Pakistan is popular among Asian women and is highly demanded for every occasion. The attire is famous due to its intricate embroidery and pretty embellishments that are super ravishing and eye-catchy with beautiful color and fabric choices. 
There are a number of stunning Pakistani salwar suits with amazing embroideries and patterns that you must have in your wardrobe so that you can pick it whenever needed.
Let's check out some of the most popular and trending salwar suit collections that are just flawless and dazzling for parties and events. 
Long Georgette Pakistani Salwar Suit
The breathable fabric with a number of admirable features is georgette. A salwar suit made of this fabric is the prettiest as it gives a playful appeal whenever worn. Georgette is a shiny and voluminous fabric that is always the first choice of a dressmaker. The pretty blue long Pakistani salwar kameez is perfect for wedding functions and special occasions.   
Pretty Printed Pakistani Salwar Suit
For day events and functions in summer choosing a printed salwar suit tends to be a perfect choice. A floral printed suit or a geometric print suit with some colorful designs and lines is your all-day-long comfort. A palazzo-style printed salwar suit or a straight printed salwar suit both are the most trending patterns among women.  
Pastel Chiffon Pakistani Salwar Suit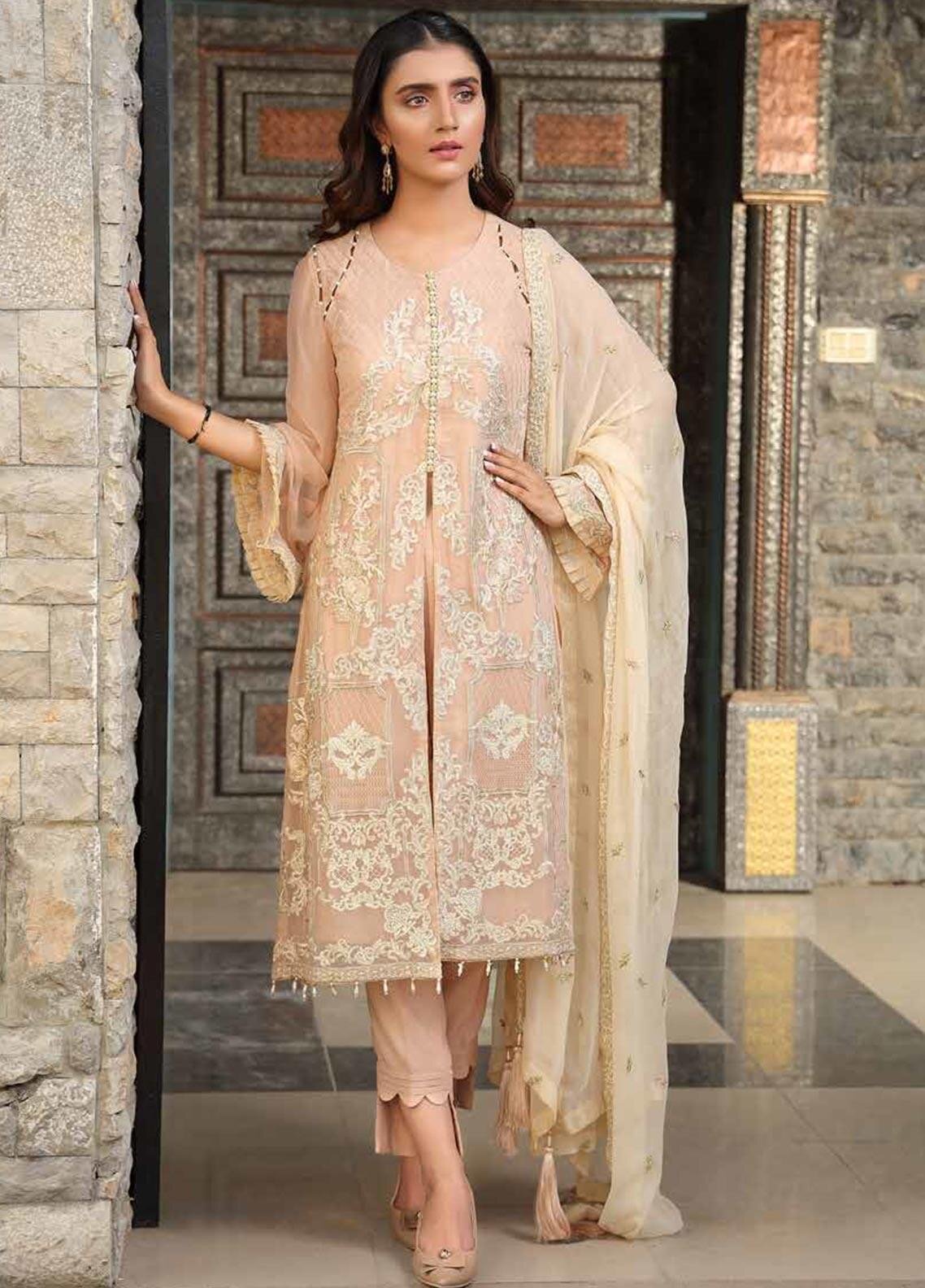 Pastel colors are in high trend nowadays, a pastel pink dress, a mint green dress or an aqua blue dress with gorgeous embroidery and ravishing details at the neckline looks amazing at an evening party. As chiffon has a good shine and is light in weight it can make an astonishing ethnic outfit that is graceful and elegant.  
Designer Pakistani Salwar Suit
Brides choose to wear designer salwar suits at different wedding functions as it is more comfortable and easy to carry rather than saree and lehenga choli. A heavy neckline and fancy sleeves can make the outfit gleam. Mostly heavy fabrics such as silk, georgette, crepe, and chiffon are used to make the alluring Pakistani salwar kameez. 
Sharara Pakistani Salwar Suit
The pattern that needs no introduction and tops the list of salwar suits is the sharara salwar kameez. Its flared pattern makes it the amazing attire and all-time favorite of every lady. The flare of sharara makes it look super interesting. The salwar is usually paired with a short kameez and a beautiful dupatta that gives it a fabulous appearance. 
Floor-length Pakistani Salwar Suit
The lengthy floor-length salwar suit is too eye-catching that it is hard to take your eyes off it. It can be a flared kameez or a straight floor-length kameez that is paired with fitted pants such as a churidar, leggings or a narrow pant. It is the perfect pick for weddings and functions in which you need to wear ethical outfits.  
Anarkali Pakistani Salwar Suit
Another fabulous piece of attire is the flared Anarkali suit. A double-layered Anarkali suit is highly admired. The kameez may vary in length and can be paired with appropriate salwar as per its length. A bright-colored Anarkali dress will be a complimenting pick. It is the evergreen salwar kameez collection that must be in your wardrobe.  
Pant-style Pakistani Salwar Suit
For our leading fashionable ladies, the pant-style salwar suit is just stunning. A narrow pant or a cigarette pant paired with a straight knee-length kameez looks absolutely stunning. The pant also looks flawless with an a-line kameez having fancy sleeves and a pretty neckline. It is a perfect Pakistani salwar kameez for each and every lady. 
Slit Pakistani Salwar Suit
Similar to the Anarkali suit, this one just has a slit in the front that makes it a modish and voguish outfit. The slit can be in the middle front or at the side depending upon the designs of the attire. A beautifully embellished slit salwar suit with some amazing laces and crystals makes a breathtaking attire that provides you a fashionista look.  
Churidar Pakistani Salwar Suit
Medium height girls usually choose the fitted churidar salwar suit as it is eligible to provide a taller and slimmer look to the wearer. The best thing about a churidar salwar is that it can be paired with different types of kameez that can be long or short. The combination of a churidar salwar and a straight kameez is just fascinating.  
Straight Pakistani Salwar Suit
For those who love something elegant and graceful can pick the straight salwar kameez. A knee-length kameez paired with a pant or a churidar salwar is perfect for family gatherings and kitty parties. You just need to choose the right color and right designs for yourself and get a graceful ethnic look at the occasion. 
Net Pakistani Salwar Suit
The fabric that is light in weight and can be embroidered with different materials and accessories is the net. The most alluring one is the floral thread embroidery done on the fabric that makes a flawless piece of attire. Decorating it with beads and pearls and opting for a tremendous neckline and sleeves pattern makes it classy attire. 
Embroidered Pakistani Salwar Suit
The heavily embroidered wholesale pakistani suits are just perfect for a bride. The intricate embroidery at the neckline and long sleeves detailed with pearls and beads gives a rocking appeal to the wearer. Some details at the ankle of the salwar and a beautiful net dupatta with tassels and laces make a perfect combination.
Linen Pakistani Salwar Kameez
Due to the moderate climate of the Asian continent, women prefer to wear light fabrics. But choosing a lightweight fabric doesn't mean that they will compromise with the fashion. They will always choose the best outfit that will give them the best look. A beautiful linen salwar suit is perfect for the climate and the events with a colorful appearance.   
Jacket style Pakistani Salwar Kameez
This one is a four-piece attire that additionally consists of a jacket that can be long or short depending on the kameez style. A flared kameez looks perfect with a long floor-length jacket and a straight kameez makes an ideal pair with the waist-length jacket. The Pakistani salwar kameez jackets are beautifully embroidered making it an awe-inspiring attire.