They say, every photograph holds a lot of unforgettable memories! Yes, we totally agree to this! But do you know that those same photos store a lot of personal information about you that can be accessed by anyone when you share a picture, no matter what mode. Yes, you read that right! An image records properties, statistics and other details in the form of metadata or EXIF data. This includes your location, time, date, device information, frame rate, copyright details and other technical information that reveal a lot about the camera settings, how you've captured the image, where/when it was taken and more.
So, What Are Photo Metadata Editors?
Well, whenever you share a picture on social media or any other platform, the attached EXIF data is also automatically available with those photographs. If you are concerned about the picture revealing your geolocation or you just want to prevent people from seeing your camera settings, you need to use Photo EXIF Editor Tools. These metadata editing programs allow users to view, edit and remove your device details, time, date and location of the photographs. Check out the list of must-have batch EXIF editors for Mac that allows you to view, change and delete metadata information of photographs.
Best EXIF Editor For Mac
1. Photos Exif Editor
Compatibility: Mac & Windows
Price: $4.99
Photos Exif Editor by Systweak Software is our favourite application if you want to view, read, edit or manipulate EXIF, IPTC, XMP, GPS metadata for thousands of images in a couple of clicks. Unlike other image metadata editing applications, Photos Exif Editor supports a wide variety of file formats including RAW. The best part? It automatically backs up the original metadata before you write any changes. This becomes helpful if you wish to restore the changes anytime. In addition to this, it provides a flexibility to create Presets, which helps to speed up batch photo metadata editing on Mac.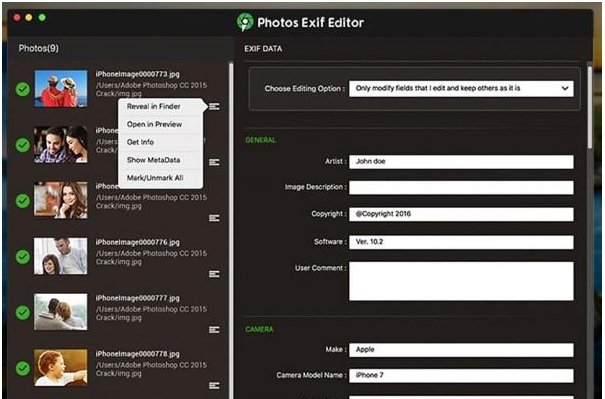 2. AnalogExif
Compatibility: Mac & Windows
Price: Free
AnalogExif is another popular utility designed for viewing, editing and manipulating image metadata. Apart from EXIF format, it supports IPTC and XMP metatags as well for JPEG and TIFF file format. The application supports batch operation on single or multiple pictures and allows users to even copy metadata from another file. Using this open-source and free photo EXIF editor, you can add tags, titles, keywords, and other information that you want to the pictures.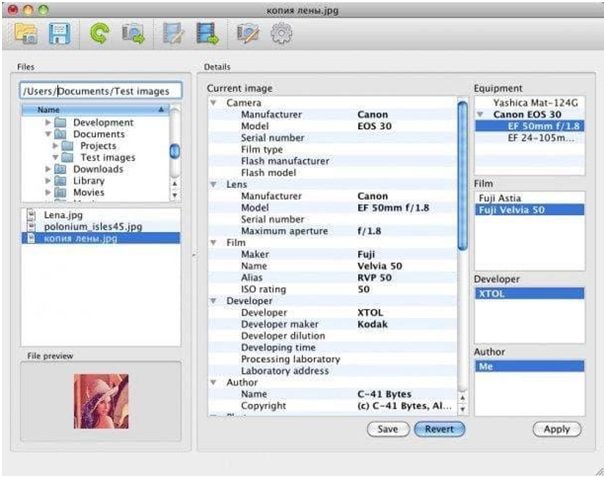 3. EXIF Studio – Metadata Editor
Compatibility: Mac & Windows
Price: $9.99
EXIF Studio is a minimalistic yet powerful photo metadata editor to view, edit and remove EXIF, IPTC, GPS & XMP metadata of hundreds of images in just a few clicks. It even helps users in manipulating the geo-location of the image by simply entering the location name on the in-built GPS map or you can specify the coordinates accordingly. The image metadata editor supports a variety of photo formats & you can save your settings as Presets to use them again for modifying data without investing more time and effort.
4. Exif Editor
Compatibility: Mac
Price: $13.99
 Exif Editor is the best photo EXIF editor for Mac users to use in 2021. The application allows users to edit & remove picture metadata by putting minimum efforts and in real-time. The application is best-known for viewing camera settings and device models. It allows users to add information related to scanned analogue pictures as well. Not only this, you can utilize this image metadata editor to manipulate important details like GPS location, date, time & so on. Exif Editor supports popular file formats like JPEG, TIFF, HEIC, Adobe DNG, Canon CR2, Nikon NEF, Pentax PEF, Sony ARW and more.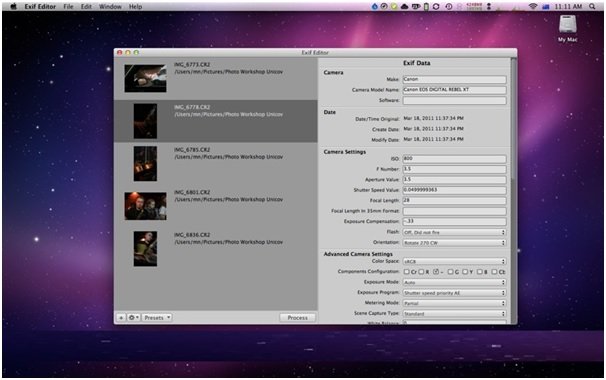 5. Photo Exifer
Compatibility: Mac
Price: $16.95
Photo Exifer is another top-notch batch EXIF editor used to edit EXIF data on Mac in a few clicks. Similar to other utilities mentioned here, Photo Exifer allows users to view, add, change, and delete EXIF, TIFF, IPTC and GPS data on pictures stored in local library, Photo library, digital cameras or your iOS devices. It comes with a Quick Action menu that makes batch operation super flawless. Apart from this, using this best photo Exif editor for Mac you can rename, add watermark to plethora of pictures in one-go.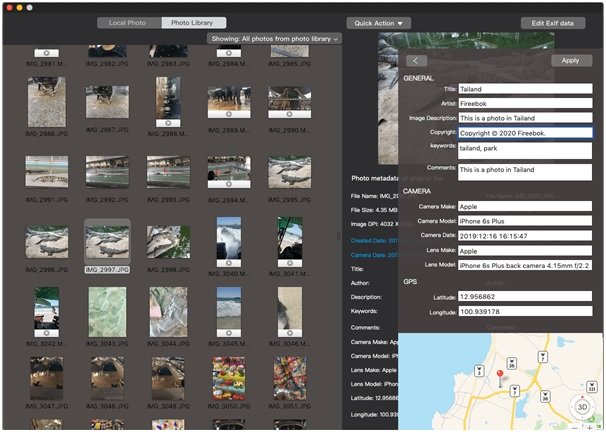 6. EXIFPurge
Compatibility: Mac & Windows
Price: Free
Next on our list of best photos EXIF editor tools for Mac and Windows is EXIFPurge. It allows users to view, edit and delete image metadata from thousands of pictures all at once. It features a straightforward dashboard, suitable for both novices and advanced users to utilize the tool, without much guidance. As per your requirements, EXIFPurge allows users to manipulate the date, time and location of your photographs. It is undoubtedly one of the best EXIF editing tools for individuals looking for batch metadata editing on Mac.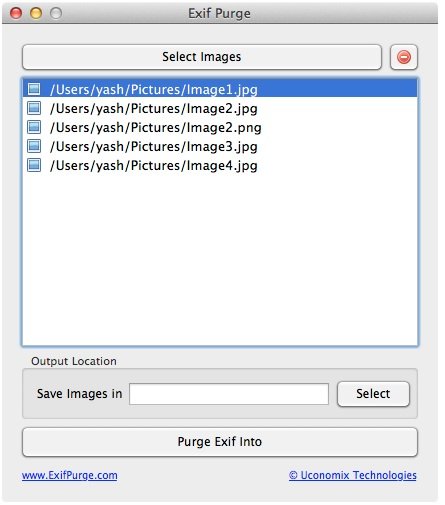 7. Image Exif Editor
Compatibility: Mac
Price: $9.99
Last but not the least in consideration, check out Image Exif Editor which is available on Mac App Store with an affordable price tag. It allows users to effortlessly manage and manipulate metadata on a clear and straightforward dashboard. You can implement additional functionalities like: Batch copying filenames, batch renaming, batch search and replace photo metadata in a few clicks. Similar to most of the best photo EXIF editor tools for Mac, it allows users to export images EXIF data to .cvs or .exv.
Hope you found these Batch EXIF Editors useful for your Mac. Our personal recommendation is Photos Exif Editor by Systweak Software. All credit goes to its intuitive dashboard and an excellent set of functionalities that allows users to view, edit, remove image metadata in bulk. If you have any other suggestions, please feel free to mention in the comments section!