If you are thinking about renovating a bathroom in your home, it can be overwhelming. There will be lots to consider, from selecting fixtures, faucets, and surface materials to picking the right lighting and luxury shower. It'll be important to plan well and think about the function when designing your bathroom remodel. You'll also want to think about how the bathroom will be used based on your family's needs. With some research and consideration, you can design a bathroom that will elevate the style and value of your home.
Whether you're making small upgrades or doing a complete renovation, redoing a bathroom is a great way to make a massive difference in the feel of your home. On average, bathroom renovations can bring over a 60 percent return in value. As a result, bathrooms take priority along with kitchens when it comes to remodels. But, as discussed, choosing a new look for the restroom isn't always easy. Sorting through design options and considering durable luxury materials can be overwhelming. Before choosing a new shower or tub, deciding on the wallpaper, or selecting finishes, take some time to think about your bathroom and what you want to accomplish. Let's take a look at some design inspiration for your bathroom renovation.
Wall Coverings
One of the features that will dictate the feel, mood, and look of your bathroom is the wall covering. Typically bathrooms can be tricky places to paint or wallpaper because of the moisture that can build up in these spaces. With adequate ventilation, however, there are numerous possibilities. Your wall coverings will complement your sink, tub, fixtures, accessories, and even the lighting. While painting the bathroom can undoubtedly be a great way to add color and complete your bathroom, don't overlook the appeal of wallpaper.
Peel and stick wallpaper can open up an entirely new world of designs and patterns that can add pizzaz and style to your bathroom. The right wallpaper can turn your bathroom into the room that has the most personality. Whether you choose a colorful floral print, a modern geometric pattern, or playful paisley style, wallpaper can be a great way to give your bathroom a designer finish that is full of color. You can even select wallpaper that creates a mural on a feature or accent wall in the bathroom. You can also choose wallpaper with texture or matte finish to add more interest. No matter what your preferences are, you can probably find a wallpaper to match.
Shower Space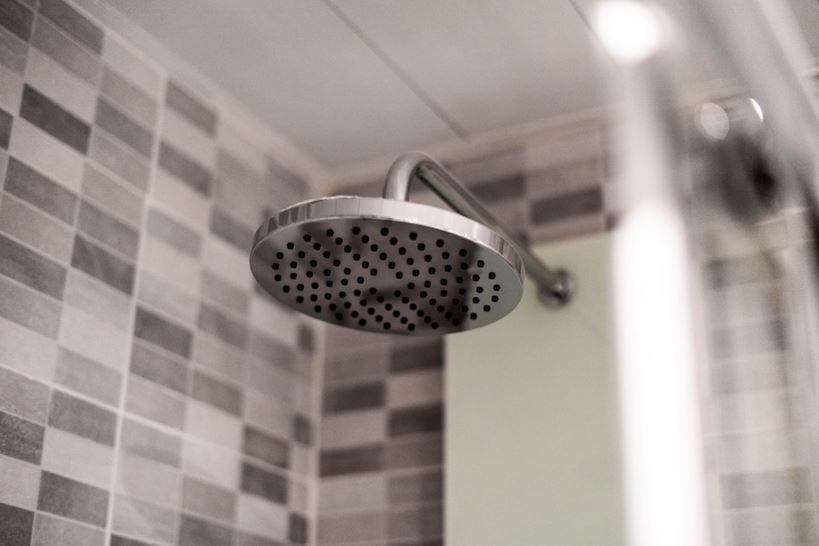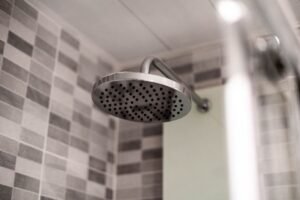 The centerpiece of most bathrooms is the shower space. A well-designed shower enclosure can provide an unmatched shower experience that is luxurious and relaxing. A shower with cool color tile, built-in shelving, and a high-end shower head can give your bathroom a spa-like atmosphere. A shower design incorporating stylish, luxurious, and durable material, such as the Kohler Luxstone, will transform your bathroom. When designing your shower walls and fixtures, you'll want to consider who is using the shower and the mood you are trying to create in the bathroom. Then, complete the look with a frameless glass door to showcase the beautiful tile work or marble.
Lighting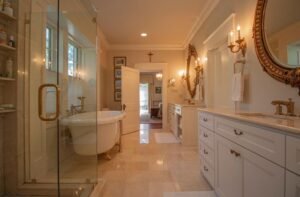 Good lighting is an essential part of any bathroom. Different areas of your bathroom will require unique lighting. There are several bathroom lighting options to choose from, including task lighting, shower lighting, and mood lighting. Make sure that task lighting and mirror lighting are purposefully designed to avoid casting shadows. Good shower lighting will be important, especially in enclosed showers, to provide adequate visibility. Additionally, you can add a chandelier or wall sconces as mood lighting to create a more relaxing atmosphere.
If you are considering a bathroom renovation, you'll want to take some time to consider your options and plan a bathroom that will be both functional and stylish. Once you decide on the atmosphere you want to create, you can select wall coverings, a shower space, and lighting to work together to make your new space.