No one can imagine a life without computers, as they are responsible for all day to tasks, whether for an individual or for an enterprise. Now for a computer to work efficiently and flawlessly, few things are highly crucial that includes operating system, hardware and device drivers. Therefore, it is necessary to keep all these 3 checked and updated from time to time to avoid any problems.
In this article we will be discussing not only about driver issues on Windows 10 but also how to update the outdated drivers.
Driver Issues On Windows 10
Before we start discussing driver issues on Windows 10, let's first have a quick overview of what a driver actually is.
A driver is a computer program that acts as an interface between the hardware installed on your computer and the operating system installed on it. And this is the reason why a driver is not only hardware dependent but also OS(operating system) specific.
It has been observed that these drivers with the passage of time or changing of operating system or changing of hardware become outdated or corrupt and lead to many common problems like malfunctioning of hardware devices or crashing of the operating system. Therefore it is recommended to always have latest and updated drivers installed for a smooth performance of the PC, or you need to face problems in the future run.
Common Drivers Issues on Windows 10:
Below are common driver issues that occur due to an incompatible or outdated driver.
Blue Screen of Death
One of the most common driver issues that users often face due to an outdated driver or a corrupt driver (basically a graphic driver) is BSOD, in which the computer automatically closes with a blue screen and a warning message.
Keyboard Not Responding Properly
Outdated keyboard drivers cause issues with computer keyboard and make them non-functional. Also the time lapse between the key pressed and the output received on the screen is also caused due to a faulty driver.
Mouse/Touchpad Problem
Whether you are using an external mouse or internal touchpad, both can face problems due to a faulty driver.
freezing error can be another pertinent problem for Windows users. It can be happen due to the following reasons
Printer Not Responding
Like keyboard, printer also stops responding or shoot printer not responding error due a
outdated printer driver.
Freezing of Computer Screen:
Often users complain about freezing of the computer screen while working on it. Now although the most prominent reason for this is lack of memory on the computer but it can also be caused due to a faulty driver.
Issues with Computer Audio
If you are unable to see the audio icon on the taskbar or unable to hear any sound while playing a song or a video, then probably you are missing an audio driver.
Issues with Computer Display
Getting garbled display or no display? Then probably you are missing the graphic or video driver that is responsible for all the display function on your computer.
Network Connection Issues
If you are unable to connect to your network or WiFi then maybe your network is down, but it is not then you need to update your network driver.
How to Update Drivers on Windows 10
Above we have seen how drivers issues on Windows 10 can cause computers and its peripheral to malfunction, therefore in this part of the article we will learn how to update drivers on Windows 10.
You can update drivers on your PC by two ways, either manually or automatically.
For manually updating your drivers you need to visit the device manufacturer website and look for the specific driver that you need to update. This method is not only cumbersome and time taking but you may also end up in getting an incompatible or wrong driver for your system. And we all know how a wrong driver can put our PC in all sorts of trouble.
Therefore, this manual method is least preferred by the users and only preferred by the users who have technical expertise.
Update the driver in Windows 10 via Device Manager.
Now, next look for the automatic way to update the driver via Device Manager.
Device Manager is an inbuilt utility that is responsible for managing drivers (like update, rollback, uninstall) on your computer.
To get started, open Device Manager and expand the driver section with which you are facing problems or needs to be updated.
Now, right click on the driver and select Update driver option.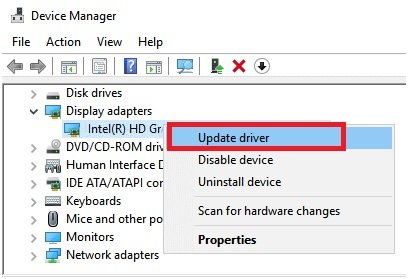 On the next screen select the option, Search automatically for updated driver software.
Next follow the onscreen instructions to install the latest driver on your PC. Once installed reboot the PC to apply the changes.
Update the driver in Windows 10 via Windows Update.
Another automatic option to update the driver offered by Windows is via Windows Update service.
To get started open Windows Settings and click on Updates & Security.
Now, tap on the Windows Update option.
Next, press the Check for Updates button and let Windows check for any recently available updates. And install if available.
Restart the computer to apply the updates.
Update the driver in Windows 10 using Dedicated Driver Updater Tool.
Updating drivers with Device Manager or Windows update often do not provide the latest driver. Therefore, it always advisable to update outdated drivers using a dedicated driver updater tool. We have tested various driver updater tools and found that Systweak Advanced Driver Updater delivers what it promises.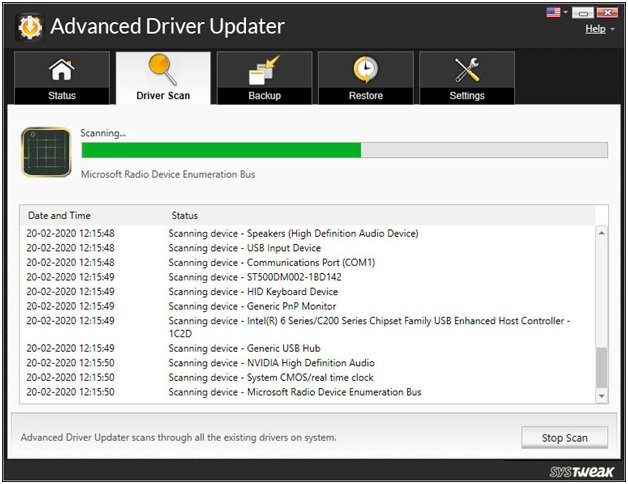 This amazing tool helps you to scan and update all the drivers with a single click. Some salient features of this amazing driver updater tool are as below:
Large Driver database that includes almost all the recent and compatible device driver for Windows
Drivers are downloaded from the cloud for faster and easy download.
Backup and Restore driver facility.
Easy exclusion of any unwanted device drivers from getting updated.
Automatic scan for outdated drivers.
One click scan and update feature
Advanced Scan engine that quickly scans your PC for all the outdated drivers.
Resume functionality if the download interrupts.
Wrapping Up:
So folks here we come to the end of the article. We hope now you have a better insight on how to update drivers on your Windows 10 machine with ease to avoid any driver issues on your computer.