If you ask about if Egypt is safe to travel to now or not, you will definitely find the answer in general that Egypt is one of the safest ones at this time. Egypt offers a unique blend of ancient history, natural beauty, and culture. Visitors can explore iconic attractions like the Giza pyramids complex and Valley of the Kings, admire natural wonders like the Nile River and Red Sea, and experience local culture and hospitality.
General State of Egypt's Safety Now
As an important country to travel to, Egypt receives about 10 million every year. Egypt is an important destination for millions of tourists every year (about over 10 million annually). In Egypt, there's about 12% of its population work in tourism. So, you can make sure that Egypt is a safe country with the reviews of the tourists visiting it every year.
If you decided to visit Egypt, you'll discover how its people are kind. Men are very helpful, women are very friendly and everyone you'll meet during your visit will help you and try to make you like their country. You just need to book a safe tour with a group of people with a safe tour company who will never make you need to help.
If you're looking for a reliable and experienced local Egypt travel agency to plan your next vacation in Egypt, look no further! Egypt Trips is a local Egyptian travel agency specialize in creating customized Egypt travel itineraries for individuals, families, and groups. So, Egypt in the current time is very safe and comfortable compared with the time of the revolution and the previous years in general. And comparing with other countries in general.
Safety of the Places Where You'll Spend your Vacation
Airports: Provide evidence about how airports in Egypt evolved with more data. Airports in Egypt which are in the top 10 in Africa don't need to show how safe are they. Starting with the security and policemen and passing by the Covid-19 pandemic rules which not many countries follow them comparing with Egypt.
Hotels: Hotels in Egypt employed many security men who will provide safety for you by prioritizing security, getting to know everyone, checking visitors' credentials, making sure doors are locked, and identifying Hazards and dealing with them.
Roads: Here I think roads are not important to take about. Egypt roads now are completely perfect and safe. There are many traffic officers on the roads. Now there are many new roads and bridges in Egypt which are very helpful for transportation in cities and towns. Buses, metro, trains, and taxis are very important and comfortable for transportation in Cairo.
Restaurants: This is an important point to talk about Egyptian food. The Ministry of Health and Population and the National Food Safety Authority in Egypt always govern the food and the restaurants' safety. The Arab Republic of Egypt joined the International Committee on the Food Constitution (CODEX) in 1972. In restaurants all over Egypt, there is at least one food inspector. Its role is to collect samples from different areas to be examined.
Shopping: Shopping malls in Egypt always put some tips you must follow them to make the shopping process for you very safe and flawless such as: Not having permission for smoke, animals, al-cholic drinks, weapons, fireworks, balls… etc. Every shopping mall in Egypt has a group of security men to be ready for any help and to protect you. And men who are in every shop in Egypt can also protect you and help you with what you need to buy. So, shopping in Egypt is safe and makes you very happy and satisfied.
Tips for Women to Be Safer in Egypt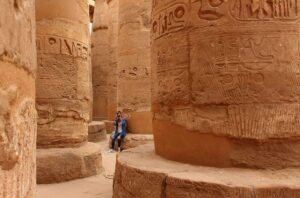 Next, and if you want to read more: Now, women may ask themselves about what can they do to be safer in Egypt. We can see these tips for women to be safer:
You should avoid wearing revealing clothes as much as possible.
Book a hotel & Nile cruise that is safe and has good reviews.
It is good to learn a bit of Arabic for communication.
It will be better to hire a female tourist guide.
You should know about the country well.
Try to avoid eating, drinking, or smoking in public.
Find the right accommodation.
If you follow these tips, you will be more safe in a safe country. And now what can you do in general if you are a man or a woman to be more safe. There are also some tips to be safer in Egypt such as:
Avoid large crowds of people and political demonstrations.
Travel in small groups and avoid walking alone, especially at night.
Secure your valuables and don't carry excessive amounts of cash.
Have a SIM card.
Try to know a little Arabic.
Do your best in following traditions.
Protect yourself from the sun as much as possible.
Follow the Foreign Ministry on Twitter and Facebook.
And by these tips, you can feel you are safer and more comfortable.
Places You Should Avoid During Visiting Egypt
Are there any places you should avoid visiting them? Yes, there are. You can visit every place in Egypt and do what you want. But there are some places you should avoid to be away from any type of risk such as:
Libyan border area.
Sudanese borders.
North Sinai
In all countries you can visit, you will face a lot of offers for example from salesmen while you're walking in the streets. So, how should you deal with them? Simply, you should learn to say "Laa, Shokran" which means "No, thanks" in Arabic. As long as you don't need what they sell to you or what they offer.
The summary is: Egypt is a very safe country to travel to if you did the local cultural customs. The crime rate in Egypt is low compared with other countries. Egyptians are very friendly. If you are in need of help, they will generally try to help you as much as they are able, more than anyone can imagine.
In every place in Egypt, you will find your needs and you'll feel safe and comfortable. If you're looking to organize a majestic trip to Egypt, we highly recommend checking out these Egypt vacation packages. They offer a wide variety of tours to the best ancient sites around Egypt. It also provides Nile River cruises that offer a unique way to explore ancient Egypt, luxury experience, and admire natural scenery. You may visit Egypt only one time but I'm sure that if you visited it, you would try to come again and again. We hope you'll enjoy your visit.