It was so annoying when I found out that my friend accidentally deleted photos from micro SD card when she used the same card to click her travel pictures. The only question that I was asking her is how to recover photos from a micro SD card. After all the research, she gave the solution which I am going to explain through this blog.
That day I learnt that data loss is a painful situation, no matter where it happens. Now when it comes to specification of micro SD card and extraction of photos from here, you just need to have a powerful and strong photo recovery software to go ahead with recovery of deleted photos. As we know that data loss is a terrible condition as a lot of mutual feelings go into the depth with these pictures.
So before we tell you how to recover photos from a micro SD card, understand the causes behind image data loss in SD cards.
Accidentally deleted by us due to pressing the Delete button unintentionally.
The device where the SD card was inserted faced some technical glitches which lead to either replacement of existing images or deleting saved images.
Storage error can show up if there are faults in manufacturing of the storage device only.
With that, you can also understand that whenever you click or save a photo in your SD card, every photo comes with two entries. Amongst them, one is the actual photo and the other has the name, location of the picture taken and details of the particular photo. Now when the photo is deleted, usually the information of the photo is deleted while the real photo stays in the device only. This image data is usually settled inside the SD card only and doesn't completely flush out.
Now what happens when you try to store a new photo in the SD card, the device looks for a new space to settle down or tries replacing those photos whose index information is deleted. So understand that those photos which had been deleted very recently are easier to find.
So let us find out how to recover photos from the micro SD card now and get your photos back to you.
How To Recover Photos From A Micro SD Card?
The best and easiest method to recover photos from a micro SD card is using Systweak Photos Recovery as it helps in recovering lost photos quickly. All you have to do is download and install the software, connect the SD card to your computer and begin with the function. You have to make sure that you ignore all the prompts appearing on your operating system regarding data corruption and drive formatting.
Now you have to:
Step 1: Start with downloading Systweak Photos Recovery on your computer.
Step 2: Double click the file that has been downloaded to start the process of installing software.
Step 3: Follow the on-screen instructions with positive responses to complete the overall process.
Step 4: Now open the program and find out your micro SD card under Removable Drive.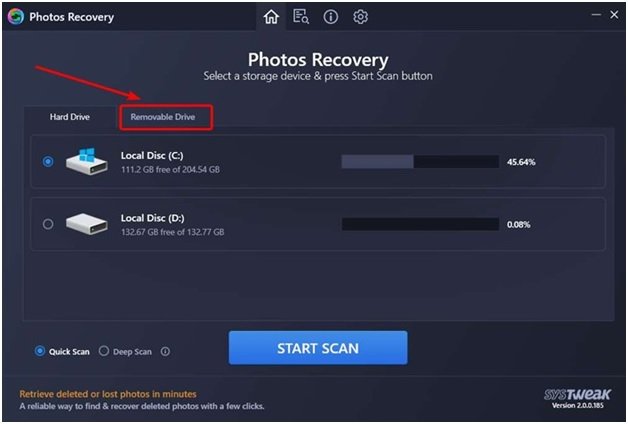 Step 5: Now select the scan type amongst Quick scan and Deep scan after which you can hit the 'Start Scan' button for further scanning. Remember, deep scan option is a time taking method but scans out all the hidden sectors of the device in detail.
Step 6: Let the whole process complete. Keep in mind that the process will take as much time as the storage space in your SD card is. If it's a small micro SD card, the time duration may stay low. In case you want to stop scanning, click on 'stop scan' to hold the process in middle only.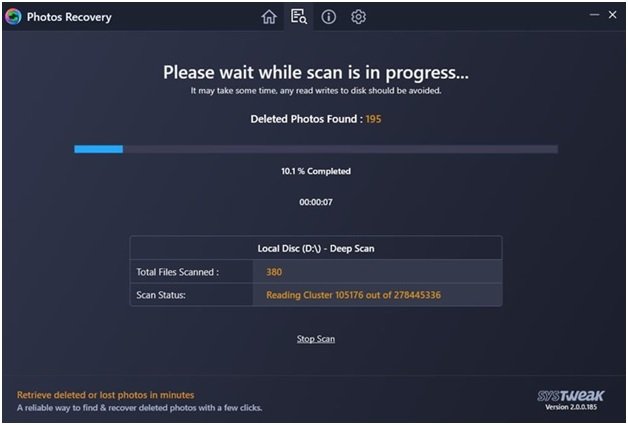 Step 7: Once done, you will confront a list of photos. Now you can either choose to recover these all photos in one go or select specific photos to get back in the system.
Step 8: Now you have to choose the destination folder where all the recoverable photos could be settled in. Make sure that you save your photos in a new folder rather than using the same source folder. In fact, choose a different drive for better results.
Step 9: The process may take some time to pull out all the deleted photos, so wait patiently to recover and enjoy them back once again.
While Recovering..
Do not format the card if the prompt asks you to.
Reject all the confusing prompts like alternative methods to resolve errors or analysis of storage devices.
If some of the photos are still missing, copy the ones you found in a destination folder rather than directly jumping to the re-scanning option once again.
Conclusion
We hope that you have already got the answer on how to recover photos from USB drive or from a micro SD card without doing much effort. Although you must remember that it is best to recover deleted photos as early as possible or else they are re-written and lost permanently from the card. Moreover, it is also important that you are equipped with right tools like Systweak Photos Recovery for highest chances of fetching deleted photos.
Did you try to recover deleted photos using Systweak Photos Recovery? Share your experience and views on it in the comments below.