Buying an insurance policy will not make you bankrupt, but insurance for your business can save you from turning bankrupt. Every business needs insurance just like an individual. It can protect your business from operational risks like theft, financial losses, employee health, and accidents. Your business will only work successfully if your employees work with passion and dedication, and it can only happen if you will take care of them and fulfill their needs. In this regard, buying a Corporate Insurance plan is the best thing to do.
Corporate insurance is something that nobody wants, but everybody needs:
So focus on what you need more than you want more. Corporate insurance is beneficial for past and present employees that work in a large organization and the company itself. Every insurance cover has limitations. It works according to the company's lawsuit.
Types of Corporate Insurance:
There are different types of Corporate Insurance based on the cover it provides, and some are as follow
Property Insurance: Property insurance helps in covering the losses due to fire vandalism or any other cause. This type of corporate insurance is for making the property or your workplace safe. Property insurance is further of two types. One is in which the company covers all risks, and the second is peril specific in which the company will pay only for losses listed in the policy document.
Professional Liability Insurance: This insurance provides cover to the business from unwanted claims and mistakes. This type of insurance is a must for companies that deal with accounting, finance, consulting, health care, etc. The professional liability insurance works according to the need of the business and the demands of the company.
Worker's compensation insurance: It is a type of insurance that pays compensation at the time of an employee's death and bears all the employee's medical treatment expenses. It is a must insurance policy in all business types if you want to keep your employees happy and loyal.
Group health insurance: It is an essential type of corporate insurance that provides health care benefits to all the company staff. It usually works the same for all the members of the company.
Product liability insurance: This type of corporate insurance is for the companies that produce or manufacture products on a large scale for selling purposes. Product Liability Insurance can provide benefits in case of loss because of products. It is the best option for protecting your manufacturing business.
Business interruption insurance: There can be an interruption in a business due to many causes. This insurance policy provides cover for the loss during the interruption in your industry. It is the best option if your business needs a physical endpoint while dealing with customers.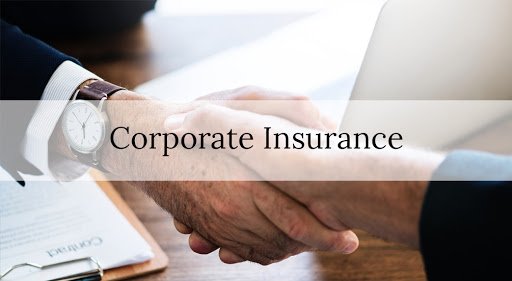 Some other types of corporate insurance are following:
Home-based business
Commercial auto insurance
General liability insurance
Business owners policy
Renter's insurance
Personal automobile insurance
Data breach
Directors and officer's insurance
Fidelity Guarantee
Professional Indemnity
Consequential Loss
Trade Credit Insurance
Marine Cargo Insurance
Benefits of Corporate Insurance plan:
There are many different advantages and benefits that corporate insurance can provide for preventing hassle or loss in your business.
It helps you run your business smoothly without any hurdle and difficulty giving you long-term headaches. We can help you in saving from massive disasters.
It can bring trust in people to join your organization and settle their future by giving their best to you.
We help in dealing with your business clients as the first thing they notice is whether your business is insured. It can have a significant effect on the deal that you are going to make. Most people feel safe by dealing with companies that are insured.
Corporate insurance can also keep you safe from Acts of God, such as floods, earthquakes, thunders, and more.
It can keep your employees loyal to you. As no business can flourish without the workers, take care of your workers, and they will take care of their work, which will benefit you and save you from losses.
Overall, Corporate Insurance is a good idea if you want your business to flourish and be safe. Never run from making small investments for getting significant results. Take a wise step and buy a corporate insurance plan.