Congratulations, after months of searching, you have finally found the ideal home for your family. The next step is moving your belongings to the new house.
Moving to a new house or apartment can either be smooth or stressful – it all depends on how well you prepare. Refrain from trying to wing everything yourself by hiring a professional moving company like High Stream Moving.
Moving Tips for Your Stress-free Move
The process does not have to be a stressful and expensive ordeal. Here are some tips to lessen your moving stress level.
Stay organized by creating a detailed plan and checklist to ensure you don't miss a thing
Create a custom labeling system to act as a blueprint when packing your belongings in the boxes
Start searching for the ideal moving company early to get enough time to evaluate each factor before making the final decision
Start packing at least two weeks before the move and start small
Focus on packing, unpacking, and arranging items one room at a time
Take Time to Relax During Moving
Sure, moving to a new apartment or house is tedious and time-consuming. Pat yourself on the back by relaxing after the move and enjoying the new chapter of life. Here are a few ideas to cushion you from feeling frazzled after the move.
Treat Yourself and Family to Take Out
The last thing you want to spend hours preparing a meal in the newly organized kitchen. Make your first night in the new house easier by dining at one of the local restaurants. You're your connections on social media platforms to find the best restaurant.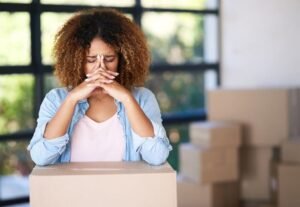 After spending the whole day unpacking and disinfecting your home, it's time to snag up on the couch with a warm blanket and popcorn to watch a movie. Comedies are perfect for laughing off stress while action films will increase your adrenaline.
If you are not into movies, listen to relaxing music or go a step further to sing karaoke with family members. Music has a magical way of creating memorable euphoria moments in new living spaces. Also, you can meditate as you listen to smooth music to relieve stress and regain your focus.
Get familiar with the neighborhood by taking a 15-30 minutes' walk around the estate. Be on the lookout for major landmarks that you can use to retrace your steps if you get lost. You can also take this opportunity to introduce yourself and socialize with neighbors.
Retail therapy is one of the best remedies for a stressful moving day. Go to one of the malls close to your new apartment to buy foodstuffs, decorations, or new outfits. If you are on a tight budget, go window shopping to get ideas of what to buy when you get funds. List down all the items and budget accordingly to avoid impulsive buying.
Moving boxes can result in sore muscles and joint dislocation especially if you haven't taken part in physical activity for a while. Go for a relaxing massage to soothe the affected muscles and joints. In a nutshell, a full-body professional massage will not only help you relax but also enhance blood circulation.
Use the internet to find massage clinics near your apartment and schedule an appointment. Confirm that the clinic is accredited and run by licensed masseuses by reading customer reviews online and checking out the website.