Renting a place and making it your own each time is a tough job at hand. When it's your first time renting all you have is major FOMO of being away from home and the jitters of settling into your new home. Most of the time renters don't feel the need to spend a great deal on the decor because ultimately one fine day you will have to vacate a rental apartment or house, and sometimes even sooner than expected. But you don't need to actually empty your pocket to actually style your house, when you can style it on dime!
But with time apartment renters grow fond of these spaces and it almost starts feeling like home. In small ways we all like to leave our personal touch on everything close to us. Why shy away from adding that personal touch to your rental apartment?
Making any space feel like home can be hard, particularly with all the limited decorating options due to the rental rules and landlord laws. No matter where you live, be it an apartment, condo, or rental, you will find plenty of ways to make the space your own with some unique decor ideas. The trends will not only increase the aesthetics of your den but also make you feel at home always. These few easy decorating styling ideas will surely inspire you to fill your rental with some style and personality.
Reminisce Your Most Cherished Memories While You Are Away From Home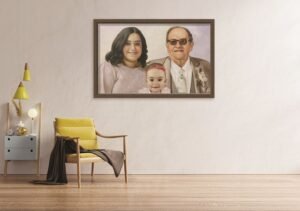 We all move out of our homes at some point in life for so many reasons like career, studies and more. But even if we leave, a piece of home always stays with us. Those cherished moments, laughter and cries we take them all along in a bag full of memories. So why not add a piece of your home in your rented apartment?
It's said that "Art makes a home more human"
A piece of art can effortlessly bring life back into a room as it holds so many memories and emotions attached to it. Art can cheer us up after a bad day, make us remember, or inspire us to do more in life. It almost works like a "comforter of the afflicted", by reminding us of our most beloved ones while we are miles away!
What could work better than a custom painting on your wall, of your most favourite family moment! Portraitflip makes the most endearing and brilliant family portraits that would add the right amount of colour and love to your rented abode. This custom family portrait will add a touch of personalization to your home and make the space feel like your own. Go For Some Extra Glow.
One of the most common drawbacks in a rental property is flimsy and outdated lighting. These lights generally don't fit well with the decor ideas you have in mind and tend to be mismatched. This could turn out your space to have a tired and dull appeal overall. But you don't have to worry because lighting is one of the cheapest ways to upgrade your rental apartment and bring it in line with your abode's vine.
The key for that extra glow is to always go the minimalist way so that your space feels open and airy. An all-white colour scheme would also add some additional glow to make the place more brighter. But using light is one of the finest ways to build the illusion of space, even if it's a small quarters. For starters throw back the curtains and opening blinds to allow all that natural light into your space.
In the evening when the sun goes down, you could still construct a bright space by using some layered lighting. Rented homes don't always have great overhead options, so get some tables and floor lamps in your rooms. These lamps would help you create the perfect mood. You could even turn them down towards night to get the perfect goodnight cosy vibes! These strategies can be adapted to get the perfect lower, calmer glow before bed.
Mirror Mirror On The Wall
We just spoke about getting that glow to your homes, you can now amplify that glow with some mirrors. Make sure you hang them across from your windows so they could reflect the glow from the sunlight and make your apartment even brighter.
The use of mirrors helps us to broaden the existing size of the room by giving an illusion of a larger space. From bathrooms, dressing rooms to living rooms, mirrors would be the perfect decor piece in any of these spaces. This technique of using mirrors for decor is still a trending concept in many contemporary homes. Today mirrors have become more of a symbol of elegance and style for people across the globe, apart from the design and aesthetical attributes they own.
An Indoor Garden To The Rescue
Plants are one of those style elements that add so much value to any given space. Be it your own apartment or rental you could have them everywhere as they are so accessible and mobile. Houseplants have made such a comeback in the major decor trends. There's a huge lineup of plants available in all shapes and sizes to choose from. They will help you dress your home with that dose of green.
Try and find the best houseplants for low light, clean air, and easy care. When it comes to plants you will definitely find one for every taste. Plant decor trends range from aligning a few trailing plants on your shelves, building blocks against white walls to add those ferns or side tables stacked with groups of cacti. If you look at it, you would find a plant design to suit every room in your house. Bromeliads will bring a tropical feel while a flowering cactus will bring in a hint of desert to your abode. Including some plants to the indoor spaces is a painless and simplest way to cancel all that extra noise in your surroundings. So all those who yearn for a stress-free environment you ought to try this styling tip.
Neutral Palette, Bright accents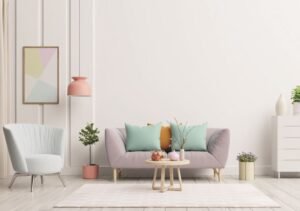 The new sought-after trend is all about neutral palettes. They are not just appealing due to their subtle hues, but they also prove to be a great canvas to add some pop of colour. Homes that are in this palette have a lot of scope to experiment with textiles and accessories in some bold and unique colours.
The best part about this experimental concept is that you have so much liberty to play around with colours. The use of these bright neutral shades give your home a more open, fresh and tidy look. Whereas the muted or darker neutral shades would get that cosy vibe alive. When some bright accents merge with a neutral shade it would add personality and charm to a space. Even a small slice of hue could make a vast difference in elevating your home.
Revamp With Wallpapers
Adding that extra colour to your rented abode is an excellent way to make the space feel a little more lively. Add a statement piece that would instantly elevate the look and feel of your space. Give your home that 3D texture with a renter-friendly wallpaper. Wallpapers are one of those statement pieces that could literally change the entire look of your space. If you were waiting all this while to upgrade the walls of your rental apartment, then here's your answer!
Unlike painting, wallpapers save you from the much dreaded mess and hassle to colour your house. The multiple patterns and colour options in wallpapers give you the liberty to try and test what would work best for your space. The best part is wallpapers are 99% of the time damage-free, and you could fix it with just a 'peel and stick'. Couple the wallpaper with some matching accessories or statement pieces and your apartment will be all set to get you all relaxed and comfortable.
Ending Note
Leaving your personal touch on something is not that easy. The job becomes tougher when you already know that it won't be something that will last. But trust me on this nothing could work wonders like revamping your rental abode. Whenever you get back to your space a well set up and decorated house will always feel like home. Renters should definitely give a shot on styling their spaces after which it would turn into your most favourite hangout spot.
These few tips will help you get the best out of your rental home or wait HOME! Afterall home is when you make it one. Think of your rental like an artist's blank canvas. You need a fresh foundation to build upon and layer around to create your magic castle.
Quick pro tip: You need to keep in mind that this won't be your last home so always try and invest in durable and recyclable furniture pieces that could move with you. Even before you shift to your next rental abode you will already have your building blocks ready to add to the home decor.