It is common for businesses that are repurposing their content to increase their audience reach to repurpose their content because of good writing but not enough audience reach.
You may reach a larger audience by repurposing your work. You can repurpose your content by transforming it into an ebook or a guide, or vice versa by turning it into a blog post.
You can enhance your writing skills by repurposing your content from your websites, blogs, ebooks, or from anywhere you have stored your valuable content.
What does Repurposing Content Mean?
The process of repurposing content (Material recycling) involves reusing existing text to increase its audience reach. This can be done by reformatting existing content for example, making a blog post into an infographic for social media.
The Five Best Ways to Repurpose your content:
Repurposing your content can be done in a variety of ways; here are the five best methods to get you started.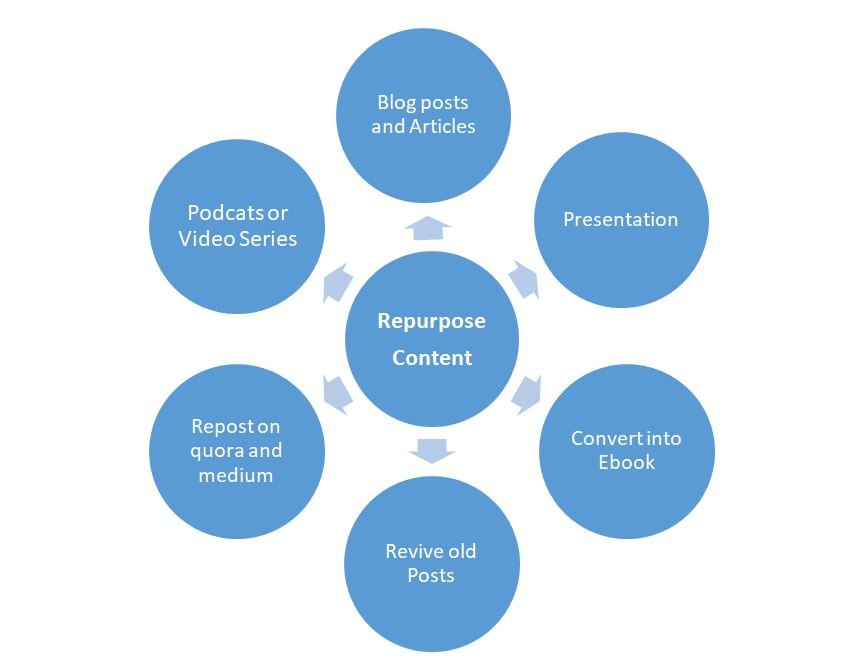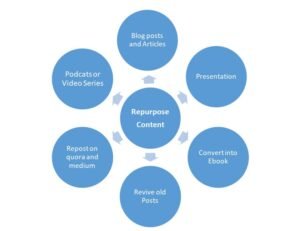 Create New Blog Posts and Articles:
You can repurpose your content to generate new blog posts and articles by posting them on platforms like WordPress, Medium, Wix, and others.
Give your content the value and distinctiveness that the audience is looking for exactly now. By repurposing your material, you can create an exceptional and well-structured piece.
"Replace your content that no one wants to read by rewriting(repurposing) it in a way that catches everyone's attention."
If the one article is about a digital marketing guide, then you can create in-depth articles on that specific topic going deeply, for example, 1. Types of digital marketing 2. Why is digital marketing essential for your business? 3. What is SEO? 4. What is Social media marketing? Etc. This helps to create long and quality articles and blog posts to reach a new and fresh audience for your platform.
Create a Presentation:
By providing in-depth statistical information on your material, you may create a presentation for repurposing it. Repurpose your material with a presentation by creating a well-structured and in-depth guided presentation that the audience desires.
Interesting facts, pertinent quotations, and valuable advice can aid efficient presentations, and the resulting presentation can provide a read-only review of your original information. More engagement opportunities are available when these slides are shared on a social platform asSlideShare Presentation.
"A visual representation of something is a great way to represent what you want to say."
Free photo editing software like Canva can help you make better presentations. Canva's pre-made templates for things like social networking images, blogs, and presentation functions are a vital addition.
Convert it into an Ebook:
You may make an ebook out of your material by combining all of your articles and blogs into one and selling it to your audience. You'll be able to reach a broader audience this way. You will, for example, if you have a finance and money management blogging website. A blog is where you publish all of your financial and money management tips, guides, and thoughts. Then you should repurpose your material and turn it into an ebook, which will allow you to quickly reach a new and vast audience.
You can repurpose your content and make good use of it with an ebook that helps you appeal to a new audience and connects you with your larger audience base.
Refresh and Republish Old Posts:
If we review blog content, we frequently discover some amazing posts held back by some information that hasn't aged as well. Change takes place, and even articles that were 100% accurate months ago may no longer be accurate today.
The content of this blog post can be used to reach a larger audience by repurposing it.
In this manner, it may be extremely easy for you to update outdated information. The majority of your information can be saved, with only a few specific parts modified. If you publish, in the first or in the last paragraph, you can mention the origin of the source.
"Discover new information or refresh your memory by refreshing old posts into a new one."
For example, you wrote an article on Money management guide 2019. Now you can modify it asa money management guide 2021 version of this article to publish it on your platform, resulting in a new audience for your blog post.
Repost on Quora or Medium:
You can also repost your information on Quora and Medium, as long as you acknowledge the platform where it was originally published. You must respond to the topic on Quora and include a link to a relevant blog post. This is also how you may obtain visitors from Quora.
You may quickly import a blog post or article link from another platform into your Medium account, allowing you to reach out to a new audience and generate a lot of attention for your work.
You may easily repurpose your work to Quora and Medium, both of which have a good and potential audience that values unique content.
Bonus Point:
Podcast or Video Series:
Some members of your audience will enjoy what they see or hear because they don't want to read. In this regard, podcasts and videos may be one of the most important forms of repurposing because they allow an entirely new way to communicate with people.
Podcasts are often referred to as audiobooks or audio blogs. This is an excellent start, but the best podcasts utilize unique data for a bigger debate.
Conclusion:
When you repurpose your writing content for your business, you should contribute something intriguing in addition to rewriting or editing it to achieve a larger audience. These six ways we discuss here will help you repurpose your content with ease and reach a new audience base for your business.