When we buy a new mac, we install a lot of apps and programs that are just for one time use. We leave them on the device until we start getting performance issues or run out of space. It is easy to install apps on Mac however completely cleaning the app cache and files may be tricky for you. Manually cleaning up app leftover or redundant files & cache from different folders is a tiresome task. Here in this article, we have covered the smartest tricks to uninstall programs on Mac manually or with the help of a Mac app remover.
Drag & Drop to Trash
This is one of the most common practices that most Mac users are following. This process may uninstall the app from your Mac however can't assure you 100% cleaning of the cache files. This is generally used when you have installed apps from the App Store.
Step 1. To see all the installed apps at a glance, click on the Launchpad icon on the Dock.
Step 2. Press and hold the application until all the icons start wiggling.
Step 3. Click on the X button on the app icon to uninstall apps on Mac. On confirmation, click on the Delete button to remove the app. You can also drag and drop the app icon to the Trash and the app will be uninstalled.
Uninstall Apps on Mac Using the Trash Bin
This is again one smart trick to uninstall apps on Mac however the challenge will remain the same. You will need to manually find and delete the app leftover from different folders. Check out the Mac Support Page for more details.
Step 1. Click on the Finder app and go to Applications.
Step 2. Select the app that you wish to delete and press Command (⌘) + Delete keys.
Step 3. Open Trash and click on the Empty button on the top-right. You can also right-click on the App and click on the 'Move to Trash' option.
"Now, it's time to dig out all the leftover and clean it from your Mac."
Step 5. Go to the Finder app, click on the 'Go to' option, copy & paste these library paths one by one.
~/Library/Logs
~/Library/Caches
~/Library/Preferences
~/Library/Internet Plug-Ins/
~/Library/Application Support/CrashReporter/
~/Library/Saved Application State/
~/Library/Application Support
~/Library/Containers
~/Library/Cookies

Step 6. Open these sub-folders and remove the files that are associated with the app. Do remember to just remove the app remains and leftover files and not the folders. Simply select the files and press the delete button to send them to the trash. Once done, empty the Trash!
Use Apps Native Uninstaller
There are apps that come with a built-in uninstaller. These uninstallers are mainly inbuilt with apps that are also compatible with Windows and are downloaded from other sources.
Step 1. Click on the Finder app and go to Applications.
Step 2. Instead of the App icon, you will find a folder that contains many files.
Step 3. Look for the built-in uninstaller app and execute the uninstaller. Follow on-screen instructions to complete the uninstallation wizard. Restart your Mac once done.
Use the Best Mac App Remover
If you don't want to struggle with the tiresome process of removing app leftover from different folders, the best method to remove apps from Mac is to use the Best Mac App Remover.
Advanced Uninstall Manager
Price: $4.99 Per Year
Size:9 MB
Version:2.4
Advanced Uninstall Manager is one of the best Mac cleaner apps that you can use to uninstall apps on Mac. It is compatible with macOS 10.11 or above and has great features to swiftly remove apps and their leftovers. Apart from uninstalling apps, it also clears redundant files, cache files, app leftover, and performs a deep clean up on your Mac.
You can also optimize your startup apps (login items), and create a list of your favourite apps. It has an easy-to-use interface that just deletes the app, associated files, preferences, supporting files and more with a single Delete button. These inbuilt features make it one of the best Mac app removers of 2021.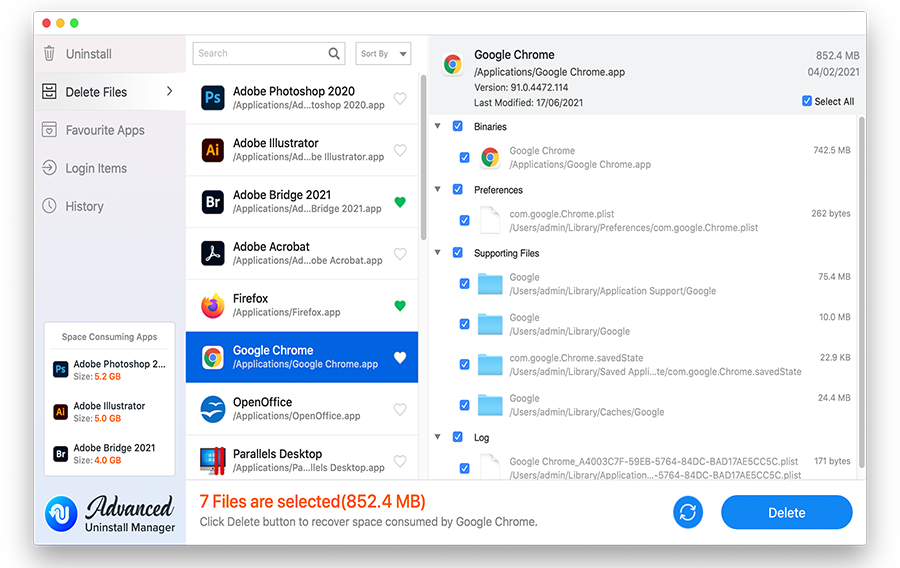 If you accidentally remove files of other apps, they may stop responding and popup error messages. It is necessary to smartly remove the app leftover and the manual process may not be error-free for you. Using Advanced Uninstall Manager can perform optimum cleaning and maintenance on your Mac and recover storage space. It safely filters all the cache and temp files that the app used and removes them along with the app.
Once you install Advanced Uninstall Manager, click on the Start Scan button to scan for apps on your Mac. It will scan and list out all the installed apps on your Mac. Select one or multiple applications to uninstall and click on the Delete button. Selected apps and their leftovers will be removed from your Mac. This is the simplest method to uninstall programs on Mac.
Summing Up
These methods to uninstall apps on Mac are the easiest methods to uninstall apps programs on Mac and keep it clean. If you are a new user, you can seamlessly make use of the best Mac app remover. It is always good to automate the process instead of following the manual processes to clean up. This uninstallation utility can easily uninstall apps, remove leftover, cache and other files, and perform Mac optimization as and when needed.
Also read: Duplicate Photos Fixer Pro – Find And Delete Duplicate Photos In iPhone