TikTok has grown to become one of the most favorite social media platforms in the past few years. With over 800 million active monthly users and 2 billion downloads globally, TikTok has joined the list of the most downloaded non-gaming applications, competing with great gaming platforms.
While its quick and easily digestible format makes it appealing to Gen Z and some millennials, it presents a great digital marketing opportunity for businesses, specifically those targeting these two large consumer groups. Like many other marketing efforts used widely by most businesses and online platforms, creating a solid TikTok marketing strategy is integral. Let's go dive into the Space Adventure of the TikTok business.
What is TikTok and Why You Should Use?
You should understand the many features of TikTok to produce quality marketing content and excel in TikTok marketing. Simply put, TikTok is a social media application that favors short and engaging videos. Think of it as an Instagram for videos or short-form YouTube with many cool features.
TikTok videos are between five and sixty seconds, and users can include attention-grabbing filers and special effects. TikTok app also has a wide array of music videos that TikTok users can access and add to their videos. The platform's algorithm uses artificial intelligence to provide users with suggestions of videos they should watch based on their previous viewings. This makes it easy for those on the platform to discover the latest content. Users and brands can also leverage this trick to create viral videos.
If you are still unsure if the integration of TikTok in business is best for you, the following statistics can change your decision:
TikTok has been downloaded over 1.65 billion times
It was the 2nd most downloaded app in 2019
Average TikTok users open and use it more than 8 times daily
The largest demographic is aged between 18 and 24 years
60% of users are female
More than 1 million videos are viewed daily on the platform.
How to Use TikTok for Business
As mentioned, you should develop a solid strategy to succeed in using TikTok for marketing. Below are some steps on advertising on TikTok successfully.
1. Clarify Your Marketing Goals
Creating marketing goals is undoubtedly the first step in any solid digital marketing strategy. Every content that you post on TikTok should have a clear goal and objective. Your content should also ensure that it fits your brand tone and voice. That said, begin by visiting your brand elements, as they will provide a clear framework for the content to use on the platform.
You should then create your marketing goals alongside the performance metrics to evaluate.
e the success of your marketing campaign. Most brands use this platform to improve their brand awareness and customer trust. Regardless, you can still measure conversions from your TikTok community and the success of your strategy.
Unlike most social media platforms, TikTok has no provision of sharing direct links in their posts. While this is expected to change with time, businesses can add shopping links to their TikTok bio to improve conversions.
2. Create Your Business Profile
With goals well laid out, the next step is creating your TikTok business profile, which is a straightforward process. A key factor to consider when creating your profile is brand consistency. Basically, your profile photo and bio should accurately match those on other social media platforms. Otherwise, your TikTok followers will have a hard time finding your other handles, and you will potentially lose conversions.
That said, follow these steps to create a TikTok account;
Download the application to your smartphone. Both iOS and Android versions are available.
Log in to the platform using your business email and password
You will be automatically redirected to the TikTok feed. Tap on the "Me" icon on the low right corner to access your profile
Click on "edit profile" and update all the required profile settings. This includes a profile picture, bio, and links to Instagram and YouTube accounts
With your profile all set, you can go back to the feed and interact with individuals and brands in your niche. Doing this will help TikTok's algorithm process accurate feed that aligns with your business niche. You can also follow prominent brands, suggested influencers, and start developing an effective TikTok content strategy.
3. Choose Your TikTok Content Strategies
If you follow the above steps, you have probably understood how TikTok works. This next step requires you to be creative. Unlike most social media platforms, TikTok and business can be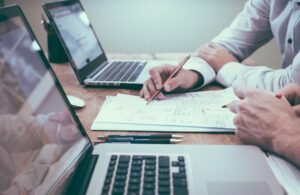 confusing and chaotic. Wading your way through awkward reaction videos and over-the-top skits requires utmost creativity. Below are some content strategies you can use.
a) Hashtag Challenges
Hashtags are a big deal in every social media platform, and TikTok hasn't been left behind. Launching TikTok hashtags is a great way of boosting engagement, as you invite your audience to participate in creating content on behalf of your business.
You can launch a brand-sponsored hashtag simply by buying a custom banner from the platforms' discover page. With this, users who click on the banner can watch your brand's video demonstrating the challenge. Most successful hashtag challenges receive millions of videos from participants around the world.
TikTok hashtag challenges can either be sponsored or organic. Sponsored challenges are branded hashtags developed by specific businesses or users that their followers can interact with. A good example is the E.L.F's Cosmetics successful #EyesLipsFace challenge that encouraged TikTokers to show their look. On the other hand, organic challenges are not sponsored by specific brands.
You should consider both hashtag challenges to grow your audience on TikTok. Develop plans for sponsored hashtag challenges and always be ready to jump into viral organic challenges.
b) Tutorials and Hacks Videos
Sharing tutorial and hack videos related to your brand products and services is another effective TikTok content strategy. For instance, if you are a cosmetic brand, you can share tutorials on how users should apply your concealers or how they can achieve a celebrity-like look with your products.
Similarly, digital marketing companies can excel in TikTok by sharing social media marketing hacks. Service businesses can also use this strategy to share relevant industry-related tricks that most people would like to know. For instance, recruiting firms can share a quick TikTok video showcasing what young job seekers should avoid.
c) Testimonials and Case Studies
Customer testimonials and case studies are other popular TikTok updates that brands can leverage. The burden of social proof has excelled in most social media platforms and is effective in TikTok as well. Businesses can share testimonial videos from satisfied clients, especially before and after videos.
Both small and big brands can find several ways of staying relevant by sharing user-generated content. For instance, a car repairing and detailing business can show how messy the vehicle was before working on it and the aftermath. Coupled with the right TikTok music, testimonial videos are a good marketing strategy. When doing this, remember you have between 15 and 60 seconds only.
d) Behind-the-Scenes
You can also use TikTok to give your followers a sneak peek of what transpires behind the scene. This is a good strategy for building an emotional connection with your followers on the platform. It shows authenticity and transparency, which are the key elements of a successful business.
That said, if you have a forthcoming product launch, use this platform to build momentum by sharing behind-the-scenes photos and videos before the official launch.
e) Influencer Marketing
Businesses can also explore ways of working with influencers on the platform. Influencer marketing on TikTok is a good strategy to broaden your reach without overusing in-house marketing resources. The success of this strategy is choosing an influencer who resonates and aligns with your brand.
Like influencer marketing on other platforms, ensure that you set clear goals and guidelines for your influencer marketing. However, remember that influencers require some creative freedom to excel.
Therefore, even though signing a contract with terms and conditions is prudent, including phrases or words that they should avoid, don't be too strict on your influencer. Give them room for personal shine, and your partnership will become authentic and genuine.
f) Repurposing and Cross-Posting
You should consider the possibility of cross-posting and repurposing your TikTok videos when creating them. You can cross-post your videos on YouTube, Instagram, Snapchat, Twitter, Facebook, and other channels. This is why more and more businesses are taking advantage of video marketing.
Note that a high cross-posting leads to a high ROI. That aside, TikTok is a great platform to "leak" teaser content and market long YouTube video sessions. For instance, cosmetic brands can share time-lapse or before and after videos of their products and invite followers to watch a step-by-step tutorial on how to use these products on their YouTube channel.
How to Run Paid Advertisements on TikTok
Below are the main ad formats to consider if you want to run paid TikTok ads. Note that purchasing methods for these ads are only made through reservations on TikTok ads.
With in-feed video, you can create a brand ad that shouldn't exceed 15 seconds. The video will be integrated into the "For You" feed homepage and have automatic sound-on when displayed on full screen. These ads operate more like Instagram ads on stories, and users can skip them.
Interested users can click on them, directing to your business landing page, app download, or TikTok page. The impact of in-feed videos is measured in impressions, number of clicks, video views, CTR, video interaction, such as shares and comments, and play duration.
Video first ads place your marketing videos in the best and unmissable places, capturing the full attention of your followers. This is a good option for brand recalls and engagements. Like in-feed videos, videos should be 15 seconds long with sound. These ads also support user engagement through likes, shares, and comments.
As the name suggests, brand takeovers allow brands to takeover TikTok for the whole day. The brand that takes over the platform can create photos, videos, and GIFs with links to their internal or external landing pages. Content from the takeover brand is often displayed in user's feeds before any other content in their feeds.
Since TikTok allows only one brand to takeover per day, this strategy guarantees more than 5 million impressions. This is unmatched ROI from a few-seconds video that no other social media platform can match. A recent success story from this ad strategy is the Too Faced TikTok takeover. The brand received more than 7.6 million impressions and 1.3 million clicks.
This is another cool TikTok marketing strategy that can work magically for your business if you have enough budget. In this ad strategy, businesses can partner with TikTok to develop 2D and 3D filters that users can take. Companies may also create filters that will be a trend on the discover tab for 10 days.
This is a great way for brands to connect with TikTok users and promote engagement. Be it gamified filters or funny lenses; you can create them and watch interactions skyrocket.
Best Marketing Tips for TikTok
Make use of the following marketing tips to improve your TikTok marketing strategy;
Adapt to trends – instead of marketing blindly, you should identify and make use of TikTok trends. However, note that trends happen quickly. Therefore, search and jump into the trending video immediately.
Find the right audience – with more than 1 billion users, finding the right audience for your content is daunting. Therefore, identify and capitalize on your niche from the start. This makes it easy for TikTok's algorithm to direct the right suggestions.
Post regularly – like marketing with other platforms, ensure that you stay active on TikTok. While doing this, ensure that you maintain good content quality and quantity.
Be authentic – customers like associating with authentic brands. Therefore, even with unregulated creative freedom, ensure that you remain genuine.
Have some fun – unlike other social platforms, TikTok is a place to let loose and have fun. Hop on relevant dance and duets when necessary.
Key Takeaway
TikTok is a great platform for new and established brands to reach new prospects. Users of this platform are very engaged, actively share content, and use the platform multiple times daily. Businesses can show their creative and fun side and add music that resonates well with their audience. Remember that the platform is more of fun and creativity and less about pressured sales.
The use of TikTok is undoubtedly growing, and you shouldn't miss sharing the fun side of your business. That said, which do you find interesting with this platform? Share your thoughts in the comments.