You can never do enough of home maintenance. It seems like a never-ending task. Re-caulking and re-grouting come in your home restoration list almost every year. But you are only getting into an endless loop of repair, wasting precious time, money and efforts. Here, we have some better substitutes for grout fillers that will give you a permanent grout repair job. In this article, we shall throw light on how you can seal your grout permanently.
What is Grout?
It is a dense liquid made of sand and cement, which is used to join two tiles. Grout which is filled in the gaps between the tile is extremely porous. The porosity makes it absorb all kinds of stains and dirty water, deteriorating it along the way. The dampness inside the grout leading to mold and mildew breeding. Grout also cracks sometimes and gives a very unmaintained look to your surfaces. Many of you resort to regrouting to fill in the missing grout, which is a temporary solution.
What is Regrouting and is it Worth the Time and Money?
People resort to regrouting over their old and deteriorated grout to refresh their walls and floors. But this process is just like a band-aid solution, which soon faces similar problems of staining, mold breeding and cracking. Regrouting is just a waste of money and time. It also proves to be very expensive.
What is a Better Solution?
Sealing grout after cleaning and prepping is a much better solution than regrouting repeatedly. Once you seal the grout with impactful and high-quality sealers, you preserve its integrity and beauty for long. A good epoxy grout sealer ensures that your grout will never crack again or get stained again.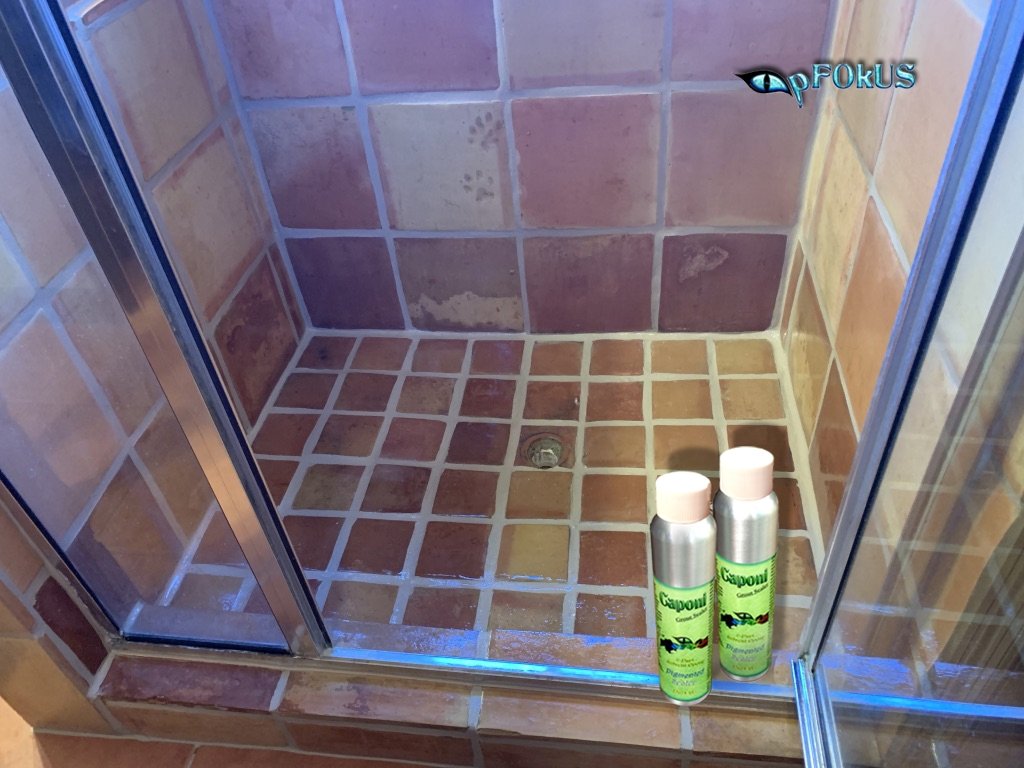 Here is How you can Seal your Grout with an Epoxy Resin Sealer:
 

Before you seal your grout with an epoxy resin sealer, you need to first clean it thoroughly with a robust and deep-penetrating cleaner. Ensure that you do not use any acidic cleaner for cleaning as it weakens the delicate porous structure of grout. A penetrative cleaner knocks off hidden stains, mold and mildew from the root.

 

Next, you should check for missing and cracked grout issues and these should be repaired using a strong adhesive. There are new age pigmented and flexible solvent-based epoxy-resin adhesives available today that deliver a seamless repair job and also never pop from the surface.

 

Once the grout is repaired and seamless throughout the surface, next you need to seal it with a high-quality pigmented resin sealer. Such a sealer makes the surface water-resistant, thereby preventing it from further stain absorption.

 

Some companies offer high-quality grout sealers that can be pigmented in a shade of your choice, and you can choose the shade of your tile color too.
Advantages of Grout Sealing Over Regrouting:
 

Sealing grout with epoxy/resin sealer creates a protective barrier on the surface and shuts the pores, making it no longer porous. The passage of water and moisture stops and hence the grout is protected from mold and mildew growth or discoloration.

 

When you seal your grout with high-quality sealers you make it water-resistant and germ-free.

 

High-quality sealers ensure that they never pop off from the surface and deliver longevity and durability to your grout. Such grout never cracks or goes missing.

 

Grout sealing when done with high-quality sealers gives you seamless and natural looking grout lines without appearing too bulky.
So, if you have understood the importance of grout sealing with high-quality sealers, you must hire contractors that have good knowledge of grout sealing themselves. There are many contractors who skip this step and resort to tile sealing directly. This results in a hazy appearance underneath the tile sealant as the moisture present in the grout gives birth to mold. You can hire experts from D'Sapone – a leading stone and grout restoration service provider in the US for their grout sealing services. Alternatively, if you wish to seal your grout yourself, you can buy high-quality grout adhesives, sealers and repair tools from pFOkUS – one of the best restoration products manufacturing companies.