The United Arab Emirates is unlike anywhere else on the planet, and Dubai is its crown jewel. For thousands of years, Dubai was known as the pearl capital of the world, with divers risking their lives by diving as deep as 40 metres in search of the tiny, valuable orbs.
The magic and danger of pearling eventually gave way to oil and industry. Dubai is now a hub of tourism, business, and energy, but its rich and eccentric heritage remains visible.
Dubai's cuisine still feels, looks, smells, and tastes like the exotic destination that it once was.
Whether you're visiting Dubai for business or pleasure, you'll need to refuel. Eating in Dubai, a city of diverse flavours, ingredients, and spices, is reason enough to visit.
This post is about what to eat in Dubai, so here are seven dishes that you absolutely must try the next time you visit the UAE's capital. In other words, these are some of the most well-known dishes in Dubai!
7 Delicious Dishes in Dubai
Stuffed Camel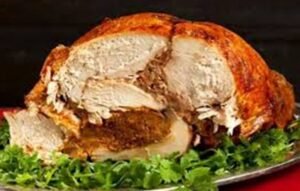 Aside from being named by the Guinness World Book of Records as one of the world's largest foods, stuffed camel is considered one of the most luxurious and celebratory foods in Dubai.
Stuffed camel can be filled with chicken, eggs, fish, sheep, and spices and cooked on a spit over an open flame.
Stuffed Camel is still considered a traditional food in Dubai, but because it is so extravagant, it is only served on special occasions, festivals, Bedouin ceremonies, or other important cultural or family events.
Plan your trip accordingly if you don't want to miss out on this dish.
Shawarma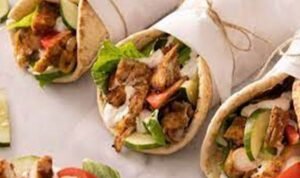 This well-known dish has spread far beyond the UAE. Shawarma is a type of Middle Eastern sandwich made from slow-roasted and spiced meat, usually chicken or lamb.
It can be served in an Arabic roti with vegetables, fries, tomatoes, pickles, garlic sauce, and a variety of other sides.
Shawarma is available in New York City, Delhi, Moscow, and Tokyo, among other places, but eating it in Dubai is an unforgettable experience.
It truly is one of the best things to eat in Dubai!
Al Harees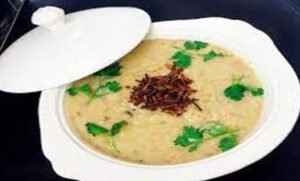 This dish is a labour of love that takes hours to prepare, but the ingredients are surprisingly simple.
A pinch of salt is added to a pot of wheat and meat, which is cooked until the texture is smooth and uniform — so much so that the meat can barely be distinguished from the grain.
The entire mixture is then slowly baked for several hours. Al harees is a simple dish that brings a surprising and welcome change to your palate in the land of decadent spices.
Mehalabiya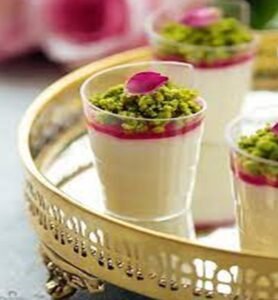 Rosewater and pistachios are the most prominent flavours in mehalabiya, a refreshing pudding. It tastes like a desert oasis: healthy, life-giving, and peaceful.
Mehalabiya is especially popular with children and is ideal for those looking for a refreshing after-dinner treat that isn't too sweet.
Ghuzi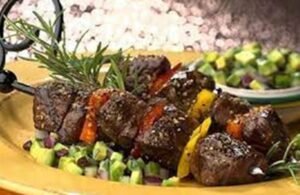 This dish, also known as khuzi or ouzi, is made from whole-roasted lamb or mutton and is commonly served on kebab skewers with vegetables and hazelnuts over rice.
It is easily one of the most popular dishes in Dubai because it serves as a complete meal. It's also the national dish of the United Arab Emirates, so any trip to the region would be incomplete without ghuzi.
Match bonus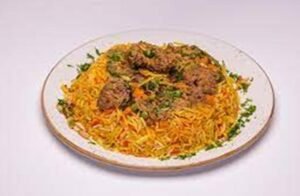 Matchbous, yet another lamb recipe, is made from a lamb spiced with loomi. Loomi is a drink made with dried, ripe limes and saltwater. After that, the lamb is cooked in a stew with tomatoes and rice.
Matchbous, a traditional Dubai dish, has a distinct flavour that is sharp, spicy, and rich. This dish is also flavoured with cloves, cardamom, cassia bark, turmeric, and baharat, giving it an impressive and satisfying depth of flavours.
Esh Hasarya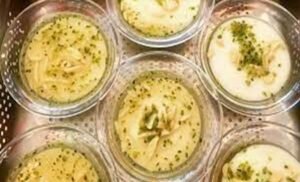 Esh hasarya, a dessert in its own right, is known as "harem bread." It has a cheesecake-like texture and a cream frosting.
This cake is rich and sweet, and it almost melts in your mouth. It's no surprise that it's one of Dubai's most popular desserts.
Take in the flavours of Dubai, as well as its views and business possibilities, the next time you visit. Few worlds taste as different as Dubai's, from camel to rosewater. Save yourself from the daily ritual of selecting and ordering your food and spending half of your lunchtime waiting for it. Don't wait to get your authorised DailyMealz Coupon Codes from Halacodesme and enjoy your food to the fullest. You can order from places like FreshSub, Slime n Lite, Regime, Pro House, Under 500, and many others.