Denim is a forever trend and will never go out of style. Whether it's a skirt or jeans, denim will always be a classic wardrobe choice. High waisted jeans are a stunning choice all year round to wear. Women's western wear boutique provides you high waisted jeans style with a balanced silhouette that makes them look flattering on everyone. 
Before letting you know the different style of high waisted jeans, some common points about all the style of high waisted are:
When they are in the correct size, it looks better.

Wear them with booties and sneakers.

Don't hide the high waist of your stylish jeans. 

Tuck in your simple tee into the waist of your jeans. 

Play with proportions and wear your jeans with a long jacket or cardigan.
High waisted skinny jeans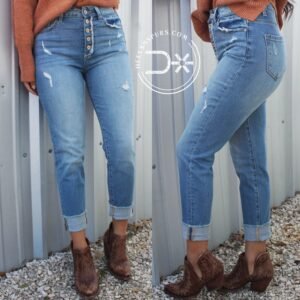 Skinny high waisted women's jeans are universally flattering and women's most favorite ones. The ever so classic skinny jean gives you a streamlined silhouette look that is perfect for off duty days. The wardrobe staple is versatile ever and can be sported for smart and casual occasions. For a chic, stylish look, pair your skinny jeans with a blazer and heels or style it with a sweater tucked in and accessorize it with large trendy accessories. The blazer's classic style will add a polished look to denim that makes your outfit instantly put together.
High waisted flare jeans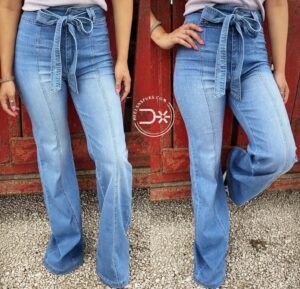 Flare jeans are a noticeable denim style that looks good on every body shape. If you are sporting them for a casual weekend or pair it with a crisp white shirt for office flare high waisted jeans can give you a sophisticated touch or a boho-chic touch into any outfit. Take these classic bottoms from day to night and style them with dangling earrings and a trendy clutch. If the temperature cools down, you can pull on the leather jacket. Give a finished look to your outfit by wearing stilettos or booties style to give the appearance of longer legs. 
High waisted boyfriend jeans
Every woman has boyfriend jeans in their wardrobe. This staple usually involves a relaxed and slouchy fit that seems to like wearing men's jeans but for women. Women's high waisted jeans have many variations in boyfriend jeans that feature a slim and tapered fit. One best thing about this style of jeans is it is suited to every body type. It is the perfect option for a weekend out as it is known for its comfortable fit and overall versatility. Pair it with a basic turtle neck top and layer a jacket over it for a complete street style look.
High waist straight leg jeans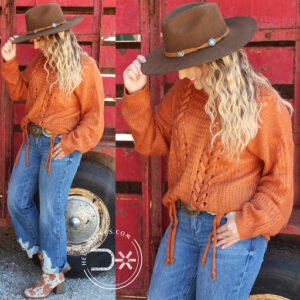 Straight leg women's jeans are a fashion favorite, and it's easy to see why. They are going to a versatile and comfortable trend. From chunky knits and sneakers to blazer and booties, this ultra-flattering style can go with anything. Straight leg high waisted jeans can be your go-to for every occasion once you find your perfect fit. Style it with a basic tee and tie a knot to give a crop top look and show off your high waist or with a stylish puffy sleeve top with a belt accentuating the outfit's look better. 
High waisted bell bottoms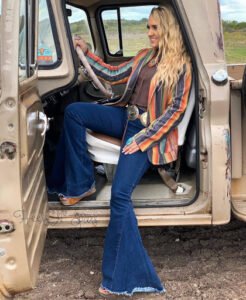 Bell-bottoms are back! This is 70's denim style and not suited to everyone, but there is nothing wrong with trying on this daring trend. The key to looking stylish in bell-bottom jeans is with a high waist and stunning high heels to match. It adds height and balances out the flare of the jeans giving you a trending look. Style and give a finishing touch to the outfit with off shoulder top and accessories for a pretty boho-chic look. Turn heads of everyone by styling out these cute bell-bottom jeans from a women's western wear boutique. 
Vintage high waist jeans
If any of the must-have denim collections you should own, then it is vintage high waisted jeans. Oh! So flattering to style this look with a hoodie and sneakers or a stylish top and statement heels. The vintage high waist jeans can be reinvented time by time again depending on how you style them. It features a versatile and polished silhouette. If you like cami or crop tops, we recommend you match them with those pieces to show off the high waist. Complete the look by giving finishing touch with a belt. 
Light wash high waist jeans 
For a refreshing summer vibe look, you can't ignore the light wash denim jeans. Cool and comfy casual pair with sneakers and a plain white tee or with a black blazer and heels. Not only does the light wash look trendy, but it also gives you a cool and casual vibe. This stunning light wash shade can dress up or down as it suits a variety of occasions. It can be worn with anything like a printed t-shirt, hoodie, or a sweater and gives you a trendy casual look.
Wrapping it up:
There are so many variations in the style of high waisted jeans. You can shop for the one you have never tried and go for a new look to find a perfect fit pair of denim jeans. Women's western wear boutique has an amazing and different collection of high-waisted jeans you can try on for your best fashion statement. So many are in offers right now, and grab the best jeans at the best price.