Without a doubt, necklaces have to be one of the most effective jewelry pieces. They draw attention to your neck, face, and chest area and also serve as a focal point for your outfit. In other words, they can take any look from drab to fab instantly.
When it comes to buying a new necklace, we typically view them as a long-term investment that should not be affected by fads. However, a gold, enamel, or silver necklace will be nothing more than just another accessory without a fantastic seasonal design refresh.
So, to find out the most in style pieces this year, we looked for inspiration from people on the frontlines — the fashion icons and celebrities who have the means and access to get the very best.
Fringe Necklaces
This season, fringe necklaces have taken on new lengths, huge beads, components, and vibrant hues, enticing several fashion icons and influencers. They typically feature tassels, chains, beads, feathers, drops, and pendants cascading down the neck to give the illusion of fringe on the traditional V-shape, which is flattering on just about anyone. You can wear these elegant necklaces both formally and casually, depending on the occasion. If you want to be on the cutting edge of fashion this season, you should definitely consider them.
While traditional tones like gold and silver are still popular options for day-to-night use, tribal influencers are cranking up the style dial in their pieces. These include embellishments in vibrant colors, big gemstone beads, feathers, sharp edges, spikes, and many layers of chain, which add depth and complexity to their looks.
Symbolic Necklaces
Let's face it: Some necklaces will never go out of style, and symbolic necklaces are one of such. Whether they come as shaped pendants, initials, religious symbols, or names, these necklaces are timeless and have a way of conveying the wearer's personality and personal brand even without them having to say a word.
Another perk to owning a symbolic pendant necklace is its versatility. You can wear it anytime and for any event. For instance, you can wear an initial necklace at any time of the day and year.
Crystal Necklaces
Between hoarding tissue papers, face masks, and spending days on end in nothing but sweatpants, people also managed to discover the healing powers of crystals during the COVID-19 lockdown. Since then, these beauties have become best sellers as they are selling fast among celebrities and influencers. Crystal jewelry is predicted to be the most enchanted fashion trend for autumn 2021, and we couldn't be happier about it.
With crystals being the hottest autumn fashion trend for 2021, everyone from Lady Gaga to Balenciaga has been sporting them. These beautiful gemstone necklaces come in different varieties and styles, making them a must-have for every lady regardless of your preferred fashion. For instance, maximalists can opt for big, bold, and colorful crystals, while minimalists can choose smaller or more transparent stones.
Chunky Necklaces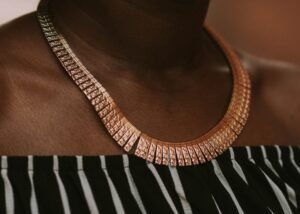 We understand if this comes as a shock to you, but yes, chunky necklaces are still in style! While they may be more common on the runway, these bad boys can still be used to elevate your look for social functions. After all, nothing transforms a plain sweater or blazer into art like the appropriate sort of necklace, and a nice chunky or statement necklace is the best way to do that.
You see, chunky neckpieces can liven up any look, and you can pair them with a casual tee, V-neck, and even buttoned shirt and suit. However, be careful not to go overboard with these neckpieces. Aim to maintain the right balance with your outfit.