When it comes to hiring an offshore development team, quality becomes an important aspect as it plays a crucial role in a project's success and failure. Thus, it is important to find an offshore software development team that fulfils critical project objectives. That is why you need to spend a lot of time to find the best team is essential for long-term success.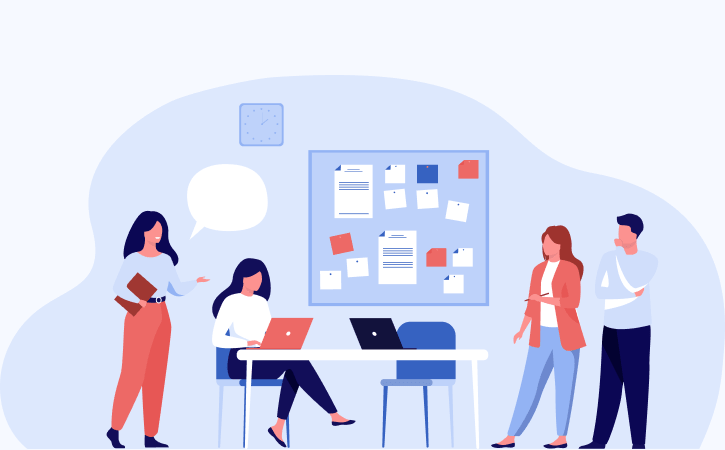 But how to find the suitable offshore development team for your needs? There are many vendors in the industry who can walk the talk, but which partners can back it up and deliver the best when it really matters?
If you are looking for the answer to these questions, then this blog is for you. This blog will take you through the essential steps you must take while hiring an offshore development team.
Checklist to evaluate your potential offshore development team
The principal aim of an offshore development partner is to guide you properly through the best possible way. It will show you the best ways to cut down your development costs. Besides this, a reputed offshore development company can enhance your flexibility and can widen your skill set.
So, go through this checklist for choosing the right offshore development partner you'll be able to combine much needed savings with a commitment to quality:
Determine your project duration
Before starting with your offshore software development, you need to get clear about what you want from your offshore development team. For this, you first need to chalk out a proper development strategy that is synced with your business goals.
Explain to your offshore developer what exactly your project needs and what you want to achieve through the offshore software development. Set clear milestones that make it easier for the offshore software developers to understand the duration of the project.
Evaluate their experience
Now you have determined your project requirements perfectly, then it is the time to look for the ability of your chosen development partner to deliver the best products as per your needs. For this, you need to check the work history of the potential offshore development team. Check out the testimonials of their previous clients to find out whether the working style of the outsourcing development company aligns with your business goals.
Get the market history of your offshore development partner, which is an invaluable source of decision making. Ensure that this market information can provide you with concrete examples of the projects they've delivered in the past. Take help of popular professional platforms such as Clutch, LinkedIn, Glassdoor, and Good Firms for this.
Ensure flexibility and scalability
A business organisation is bound to prosper with due course of time. Thus, you should ensure that your offshore development team can satisfy your business expansion needs. Along with this, you need to see that your outsourcing partner contains a large pool of talent to recruit from.
Verify if your offshore development partner can tap into local talent and scale up their team quickly if needed. The product can smoothly get into new users.
Fix a proper channel of communication
Clear and open communication is a key to excellent business relationships. That is why it is important to review the ability of your offshore development partner to communicate and coordinate. You should have to audit your offshore developer's language, tone, fluency and personality.
Do not forget that you are looking for a group that is passionate and enthusiastic. Ensure that they care about their work and be interested in your project. Because an uninterested partner is often an inefficient partner, that is why these subtleties are important to outline and evaluate.
Resolve the cultural limitations
When you are going to hire offshore developers, you may have to work with the employees of different cultural backgrounds. Though cross-cultural teams are becoming commonplace, establishing smooth relationships between the team members is often a herculean task.
Here a good offshore development partner can help you acknowledge and bridge the cultural gap among your team.
Assess the team's core processes
Assessing the operational process and organization's structure. Of your chosen offshore development center can help you get a better idea of their work. It provides you with an insight into your offshore developers team's capabilities and efficiencies. That helps you to audit their potential and ability to meet project deadlines.
This evaluation of the offshore software development team will help you determine whether the team is able to meet the above-mentioned criteria. By observing your offshore remote development team's approach, you can easily identify how compatible they are with your project.
Conduct in-depth review of technical skills
Checking the depth of technical expertise of your software development partner is extremely important to ensure that it can meet your project expectations. So, test everything from technical skills to problem-solving abilities of the offshore developer team before hiring them.
Carefully check the CV of the offshore developers team members to get a clear understanding of their skills. This understating will help you know more about the weaknesses and strengths of your team members. Design unique assignments that effectively test individuals on the skills that you are looking for.
Focus on after sales support
Your work does not get completed after offshore software development, you constantly need the timely improvements to your software. Apart from this, the handling of an enormous chunk of data with no glitches or bugs is also essential.
To prevent the glitches, make sure that your offshore software development partner will provide you with an excellent after sales service. In this way, an after sales service is a long-term commitment that you are going to make with the best offshore developer for better performance of your product.
Conclusion
Choosing an offshore web development company is like building an entirely new development team. If you make the right choice, then you'll have found an endlessly flexible asset capable of scaling up or down as requirements dictate and of delivering a wide range of projects as per the requirement of business shifts.
Get it wrong can make you deliver the project badly, late or not fit for purpose, combined with the frustration of having to start the search all over again. So, just keep the above-mentioned things in mind so that you do not face any hurdles with your software development.