When it comes to comfort then no other attire can beat salwar kameez. This three-piece attire has been worn as a casual wear outfit for ages. There are so many varieties of salwar kameez and each one has its own characteristic. Some of them are popular due to their comfort level and some are popular due to their pattern. The outfit is not only popular in India rather it is immensely popular all around the globe.   
One of the most popular types of salwar kameez is the churidar salwar suit. The attire consists of a fitted salwar having some churis or wrinkles at the ankle which makes it a churidar salwar. It can be paired with any type of kameez that can be a long anarkali kameez, medium straight side slit kameez or some asymmetrical kurtis. For a perfect ethnic look just pick any beautiful churidar salwar suit. They are the outfits that can be worn at any casual occasion as well as special events. Indian women also prefer to wear the outfit on a daily basis.   
Reason Behind its Popularity:
Not only churidar salwar suits but each and every pattern of salwar kameez is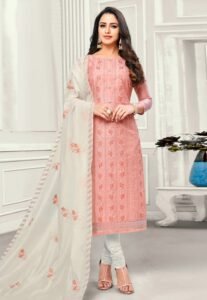 famous among women. But this one has a special place in every woman's wardrobe. The most important reason behind its popularity is the slim and tall look that it gives. Besides, it can be paired with any type of kurti that is either short or long. Other salwars such as patiala salwar, dhoti or palazzo pants are paired with a particular type of kurti, but this one can give you many options so just go for it. Festivals and special occasions are the best time to wear some beautiful and amazing salwar suits. The outfit is favourable for women of every age and every body type. They come in many different fabrics that can be chosen according to the type of occasion or climate.  
Indians always prefer something comfortable that provides a fresh and cool feel to the wearer. As the climate here is moderate so light and soft fabrics are preferred the most. Cotton is one of the most popular fabrics as it has many benefits. It is soft and absorbent as well has a strong fabric that has the ability to control moisture on a hot day. Some other light fabrics such as georgette, chiffon and linen also come in the list of most commonly used fabrics. Some royal and rich fabrics such as silk, jacquard, brocade and net are preferred for festivals and special occasions. They can give you a decent look making you the limelight of the party.     
Proper Neck and Sleeves:
A designer neck and some alluring sleeve patterns make a classy pair. They are the most attractive thing that is specially focused on a kurti. Heavily embroidered neck having some embellishments that is done with the help of colourful stones, diamonds and pearls makes the attire look ravishing and attractive. There are many different types of neck design such as sweetheart neck, round neck, necklines with keyhole and even a stand collar neck. Some beautiful sleeves such as long net sleeves, cold shoulder sleeves, cap sleeves and some other short sleeves make a pretty kameez. 
Some Accessories to pair with this Outfit:
Any traditional wholesale designer dress material catalogue is incomplete without pairing some beautiful accessories with it. Jewelry plays a very important role in completing your look. Some beautiful ones detailed with colorful stones, diamonds, pearls and chains give it a ravishing look. Check out some of them.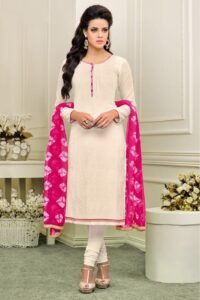 Earrings:

A pair of bold and beautiful earrings decorated with hanging chains, some stones and diamonds is just too awesome. They are available in different metals and shapes. Expensive gold earrings, silver earrings and artificial earrings.   

Necklace:

A long pearl necklace having a diamond pendant looks awesome when paired with a plain salwar suit. If your outfit has a broad and simple neck then a choker necklace matches perfectly with this attire.  

Rings:

The most loved accessory is this small and beautiful ring. It is detailed with some colourful diamonds and pearls. A round diamond at the center and some small pearls surrounding it gives it an attractive look. 

Maang tikka: If you want a perfect traditional look then maang tikka can be a complimenting pick. Just pair a bold and big one or a full forehead maang tikka having some hanging chains covering the full forehead.   
Bangles or Bracelets:

Short sleeves and some pretty bangles are a deadly combination. Brass, metal or glass bangles can be paired with the outfit for a delightful look. Another best alternative of bangles is a pretty bracelet detailed with some beautiful embellishments.  

Anklet:

A small chain-like accessory that has some intricate carvings and designs on it is worn to showcase the beautiful Indian culture. Women here love to wear silver anklets or golden anklets with traditional dresses.  

  
Clutch:

There are no pockets in ethnic clothes that makes it difficult to carry your mobile phone and cards. So as a solution, you can match a beautiful clutch that has some adoring work on it. They are available in many shapes, just pick the perfect one and glam your look.   

Footwear:

Pairing perfect footwear makes a lot of difference to your overall look. Choose the one that goes well with your attire. A pencil heel sandal or platform heels are best for a tall look. If you are tall enough then flat sandals and mojaris can be a great option.  
The attire is so popular that Indians residing outside India shop for this traditional outfit through online websites. You can also buy them from markets but online shopping is the easiest way to get your desired outfit in just a few clicks. You can go through the list of each and every type of outfit in wholesale, such as some beautiful wholesale printed cotton dress material , patiala salwar suits, anarkali salwar suits and many more and get them in a few days.